CampFishCookMB: Nopiming Provincial Park
One of the most scenic and remote drive-to reaches of Manitoba's Eastern Region is the Nopiming Provincial Park.
This Canadian Shield playground is home to a seemingly infinite amount of lakes. Lakes that have been widely popularized for their smallmouth bass and walleye fishing. Throughout the park there is a number of campgrounds which offer seasonal, reservable and back-country campsites to suit the needs of any angler looking to tackle these waters.
Recently, Marcel and I made the journey into the Nopiming Provincial Park to try our hand at a few of these world-class fisheries. We set up our home base at Bird Lake Campground and planned to spend as much time on the water as possible over the next two days. Bird Lake campground is the perfect mix of a back-country experience, with many of the luxuries of home near by. They have great sites with picnic tables and fire pits. They also have an excellent boat launch and dock, a fish filleting shack as well as washrooms. Just a short walk from the campground is Nopiming Lodge. Stocked with all the basic camping and fishing essentials they are sure to have what you need should you forget something at home. Nopiming Lodge also has a restaurant, boat rentals and even cabins rentals if that's more your pace.
Headed East
After Meeting Marcel in Winnipeg, we began our short, just over two-hour drive, into the Nopiming. This scenic drive offers the classic Canadian Shield views as you near your destination. Excited to get on the water, Marcel and I went straight to the launch to drop the boat in and start casting shorelines.
The day started out super windy, which made our boat control very difficult. We elected to move into a bay protected from the wind to start our efforts there. Moving along the shoreline we ventured closer towards the windblown point of the bay, it wasn't long there after that we finally started finding some bass.
On the Small Jaws
Marcel started throwing a crank bait and I was slow working a tube jig along the bottom. Our goal with having two totally different presentations was to try and gauge the attitude of the fish and which method was going to be more successful. Marcel casted towards the point, parallel to the shore. On the retrieve back his crank got slammed. Marcel knew right away it was a strong fish. As the bass buckled his rod over and over again or excitement mounted. Then the line went slack. It got off. Disappointed at the results but hopeful of what's to come we kept fishing.
We took note that the last bass took Marcel's hook over deeper water, a little bit off of the shoreline structure. We started working our baits all the way back to the boat, to ensure we were covering some of the deeper water that we initially were not. From that we were able to get onto a pattern with a few smaller bass into the boat and started learning a bit of where some of these fish were hiding.
Weather Issues
We fished through the calm part of the lake and began to enter back into the wind. Boat control was tough but we knew these windblown structures had to be holding fish. We got up close to an island point that really looked great. The wind was howling unlike I've seen too many times while fishing before. As the wind was trying to push us into the island, Marcel controlled the boat while I casted to the point with my tube jig. While slow working it back to the boat my lure got chomped! The pull of the fish immediately told me it was bigger than the last couple smaller ones I had been catching. After a great fight and some handy boat maneuvers by Marcel, keeping us off of the island, I was able to land a beautiful smallmouth.
Along with the wind came a sequence of thunderstorms which pushed us off of the lake for a while. After nearly calling it a day to head to Bird Lake Campground and begin setting up, the storms subsided, leaving behind glass calm waters. Quickly shifting gears, we got back on the water to finish off the night, fishing bass the way we wanted to.
Calm Waters and Killer Fishing
With only a few hours left in the day Marcel and I found a great rock shoreline and began casting along it. Not far into working this section, we began getting into some quality bass. These fish were still just off the main shoreline structure in a little deeper water, near a transition to 20 feet of water.
We continued down this line, picking off a handful of quality bass. Throughout this, we noticed an insane number of bugs on the waters surface. These appeared to be pushed into this corner of the lake by the relentless winds of the day. Just as the sun was nearing the horizon, the glass calm waters began to erupt with top-water bass blow-ups, as they began feeding on the bugs. These smallies appeared to be working in schools with more than 5 bass breaching the surface in one spot at a time. This amazing spectacle forced us to switch gears and start throwing topwater lures.
Casting a popper into these massive swarms of water bugs immediately lead to some amazing strikes from these aggressive smallies. The hard fights and areal acrobatics went on as the sun eased below the horizon; and what started as a tough day of fishing, ended with one of the most memorable evenings of bass fishing I have had.
Bird Lake Campground
Arriving late to our campsite at Bird Lake. Marcel and I quickly got camp set up, made up a little supper, then hit the hay in preparation for another big day on the water. As we woke in the morning, the true beauty of this location became apparent. Our site was located right along the water, and just a short distance from the boat launch, we could see a few real bassy looking islands. As we ate our breakfast, we watched the wind pounding the west shorelines of these Islands. We knew we had to drop the boat in and try our luck on some Bird Lake smallmouth bass.
Although the wind was really blowing our boat around, we still managed to get on the fish right away. Not only were we catching bass, but we also landed a few walleye and pike as well. As we completed our pass of the shorelines, we snuck behind the islands to get a little relief from the winds.
Marcel looked at one island point in particular and said to me, "That's just too good not to have a bass on it". He began casting to it, and it wasn't long after, his lure got smoked, quickly followed by a bass jumping out of the water and reviling its size. Instantly we both realized that this was a big fish. I grabbed the net, and after a brief but intense fight we got it in the boat. The measurements revealed it as a Manitoba Master Angler as we swiftly got it right back into the water to be caught another day.
Sliced Venison Burgers
As the day neared lunch time, we decided to find an island to sit down for a nice shore lunch. We gathered our cooking supplies and made our way to a spot we scouted out earlier. On the menu today was sliced venison burgers. The cut of meat for this meal was a chunk of backstrap off of a whitetail buck Marcel and I harvested together last fall.
For this meal we decided to keep things pretty simple. I started with chopping up some onions and peppers as the venison began cooking on the barbeque. Then sautéed the veggies with some olive oil and brown sugar, and cooked the venison to a perfect, melt-in-your-mouth rare. I then sliced the venison thinly and added it all to a burger bun with some lettuce, cheese and condiments. Just like that, we had an unbelievably tasty shore lunch ready in no time.
For more details on this meal, check out the full recipe at the bottom of the article.
Wind Delay
After finishing up our delicious meal on a Bird Lake island, we made our way back to the campsite just as the wind became very intense. We waited out the wind for a couple hours while enjoying the comforts of our campsite. As the water finally calmed off, we loaded up the boat and headed back to where we finished the previous day's fishing.
Top Water Bite Continues
We made it back to the same top-water spot we found the night before. As the sun reached into the "golden hour", the calm waters stacked up with bugs, began erupting with bass yet again. This turned into yet another legendary night of bass fishing. Glass calm water, amazing sunset, a perfect temperature and countless top-water smallie surfaces.
The End to an Unforgettable Nopiming Provincial Park Experience
We ended the day with a number of fish right around or just below the 18" Manitoba Master Angler requirement. This incredible fishing really topped of an unforgettable experience in the Nopiming Provincial Park.
Good times, great views and amazing fishing is exactly how I would describe what a trip into the Nopiming Provincial Park is like. A true back country experience with many modern luxuries to help your trip be as seamless as possible. We can't wait for the day we get to launch a boat in these waters again.
Trip Tips:
Equipment:
For rod and reels, we varied between 6-7ft medium to medium-heavy action rods; paired with a spinning or baitcasting reel depending on the lure and preference. We spooled these up with 10-pound braid tied to a 10-pound fluorocarbon leader.
Tackle:
For this trip we used many different lures with varying levels of success. The top lures for us were as follows: Slow working a tube jig or a football jig with a craw, across the bottom through varying depths. Casting a 7ft diving Storm Arashi crank in a craw pattern along the shoreline, and hopping back a ¼ ounce black hair jig. Lastly, when the topwater bite was on, we had our best hook-ups on a Rapala Skitter Pop, while casting through the water bugs.
Tactics:
We started searching for these bass right on the rock structures along the shorelines. After minimal success we began working our lures into a little bit deeper water (approx. 10-15 feet). Before long we started to find a few more bass. We attributed this to the above average temperatures of the water during this trip. Exploring varying depths was definitely a beneficial tactic the helped make this trip a success.
Mosquito's:
Throughout the summer months, many places in the province will have mosquito's, in some cases many mosquitoes. They will be at their worst in the early mornings and evenings. Many of you will know that this can really put a damper on a trip. The Nopiming Provincial Park is no exception, and on this trip we made sure to bring bug spray as well as Thermacell portable mosquito repellers. These two items made a world of difference for us, especially when arriving to our campsite into the later evenings.
Sliced Venison Burger Recipe
Ingredients:
Venison
Steak Spice and/or Salt and Pepper
Peppers
Onions
Margarine/butter/olive oil
Brown sugar
Lettuce
Tomato
Hamburger bun
Cheese
Ketchup
Mayonnaise
Mustard
How to Make it
Season your venison with steak spice or salt and pepper.
Place venison on the BBQ set to high heat and cook until your preference.
While venison is cooking, slice peppers and onions.
Add peppers, onions, margarine, and brown sugar to a pan. Stir regularly.
Once venison is cooked to your liking, remove and slice thinly.
Once peppers and onions are cooked, remove from heat.
Take hamburger bun, put your favourite condiments on, sliced venison, lettuce, tomato, peppers, onions, and dive in.
For more information on Bird Lake and other Nopiming Provincial Park Campgrounds, click here.
Visit the HuntFishMB blog page for more great Manitoba fishing content like this.
*For More Information on Covid-19 social distancing measures, visit the Manitoba Government Covid-19 website.
*Protect Manitoba's water and resources. Stop aquatic invasive species. For more information on how to do your part, visit the Sustainable Development AIS page.
Written by: Keevin Erickson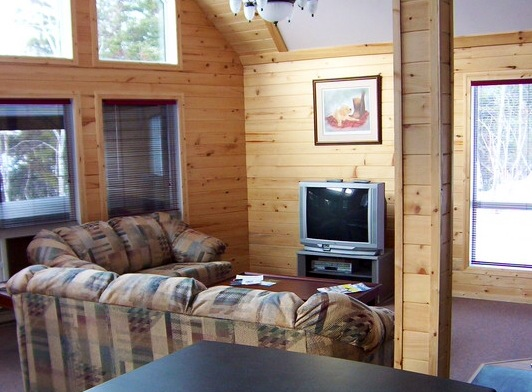 Learn More
Nopiming LodgeLot A, Block 1, Bird Lake
LAC DU BONNET, MB R0E 1A0