Epic Tour of Manitoba Ice Fishing Destinations 1.0
When it comes to premiere ice fishing destinations, hardwaters within the borders of Manitoba have risen to the top of many lists.
HuntFishMB - Eric Labaupa
The phenomenal rise in popularity amongst visitors and residents alike choosing to fish here, owe in large part to the Lake Winnipeg craze that took the angling world by storm during this last decade. What many anglers are starting to uncover however, is that we have countless other lakes and rivers that offer incredible fishing for all number of species. We embarked on a recent trip across the province to get an up close glimpse at just a sampling of ice fishing destinations that you need to hit this winter.
Joining us were Brett McComas (Fish-Head at Target Walleye), Amanda McComas, and Garther Cheung (Big China Outdoors). Over the course of six days, we aimed to execute a solid plan of drilling holes and getting fish topside out of five destinations in three different regions.
Balsam Bay (Lake Winnipeg)
The 'East side' epicentre of the south basin, Balsam Bay is the most popular access point onto Lake Winnipeg out of the Eastern Region. It isn't necessarily required to venture too far from the vehicle friendly landing, as productive water can be happened upon within the first 500m up and down the shoreline.
We were accompanied on this first leg by veteran guide Matt Cornell (Bruin Outfitting and Guiding Service). Beginning at a nearby area northwest from Balsam Harbour, we employed a run' n gun approach leap frogging our way south until we set stakes down in an area close to Stony Point. We caught over two dozen walleyes highlighted by a fat 25" greenback that smacked Brett's jigging spoon suspended mid-column.
Salamonia Channel (Lake Winnipeg)
The mouth of 'the Sal' on the 'West side' is another focal target area on Lake Winnipeg especially early on in the season. We accessed the lake via well known Chalet Beach Road off of Highway 9 in the Interlake Region.
Once again with Matt, we left the Canalta Hotel in Selkirk bright and early to capitalize on an anticipated hot morning bite. A flurry of 'eater-sized' walleye and saugers came up through many of our scattered grid of holes. Having our fill of fast action, we went searching for larger quarry in the afternoon. Our next spot which was eastward and in slightly shallower water produced some hawgs that we were looking for. With a number of 24" plus greenbacks under our belt, Brett once again stole the show by icing a 28" Master Angler that was fooled by an oversized rattle bait.
Lake Dauphin
Dauphin is a well-known hotspot for massive numbers of walleyes. It is not uncommon for one stationary ice fishing shack to produce over 75 walleyes over the course of a day's fishing. A relatively large prairie pothole type lake, it is characterised by large expanses of shallow turbid water.
A three hour drive west from Big Windy, we were greeted upon our arrival by Gildas and Joanne Paradis at the lovely Riverside Lodge. Staying in comfort and fishing in comfort were the theme here as we were graciously hosted over two days, complete with amazingly prepared delicious meals. The temperatures plummeted overnight so fishing in their wood stove heated permanent ice shacks was a treat. Catching dozens of what we coined 'angry walleye' was just a bonus.
Lake of the Prairies
A year-round sport fish factory, Lake of the Prairies in the Parkland Region is a well-known destination for anglers from far and wide. This sprawling reservoir has access points for ice fishing enthusiasts dotted along its entire length. Community spots on the lake are highlighted by the welcoming sight of ice shack villages.
An hour west from the city of Dauphin, we headquartered in the friendly town of Roblin on this last leg of the tour. We stayed at the comfortable Harvest Moon Inn which is accustomed to welcoming anglers who come to fish all of the outstanding lakes in the immediate surrounding area. Phil Paczkoski (Yo Fisherman) set us up in one of his half dozen wood stove heated ice shacks available for rent in the productive Pyott's Point area of the lake. Garther took top honours at this stop as he got whacked by this fat 25" golden 'eye in twenty feet of see-to-the-bottom clear water.
West Goose Lake
One of many small lakes in this region monitored and stocked by the hard working FLIPPR organization, West Goose and East Goose Lakes are right in the middle of Roblin. Home to monster rainbow and brown trout, West Goose is a popular stop for many anglers who have sights on catching a fish well beyond the 20" Master Angler designated length.
Being a stone's throw from our hotel rooms, we couldn't resist dropping lines for a few hours before dark. Walking out with our flipover shelters, we set up not too far from the boat launch setting lines from 5' to 11' of water under the ice. We watched through the holes a good number of trout of various sizes inspect, attack, or outright ignore our offerings. After a bunch of swings and misses, I was finally able to at least ice one for the team with this spunky thick-backed rainbow.
Twin Lakes
One of the more popular destinations in the FLIPPR roster of lakes is Twin. Along with being a gorgeous body of water at the foot of the scenic Duck Mountains, its claim to fame is based on the fact that it is one of only a handful of lakes in the province that is home to a brown trout and brook trout hybrid aptly named tiger trout. Add to that specimens caught here regularly surpass Master Angler size and you have a must-fish lake on anyone's list.
A twenty-five minute drive north of Roblin, we allotted the morning to try and get a tiger trout or two on someone's line before making the long trek back to Winnipeg. We set up over shallow water a short hike from the launch. Once again beset with a few missed hooksets and dropped fish, we were downright ecstatic once Amanda was able to get a feisty tiger up and through the ice. Brett successfully caught his first ever tiger trout as well, then shortly after logged a new personal best with this beauty.
For more information on fishing for the species we targeted on this adventure, visit our What You'll Catch page.
Search our Lodge and Outfitter Finder for help planning your next ice fishing trip.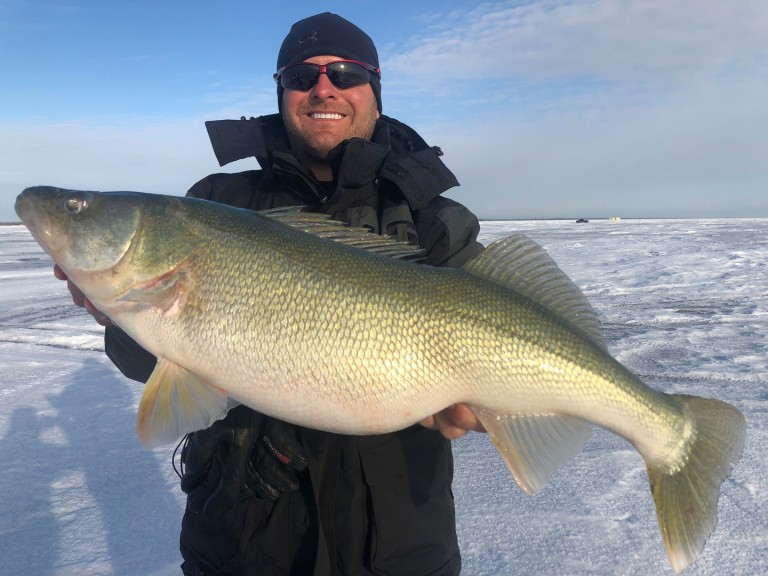 Learn More
Bruin Outfitting and Guide Service38 Prairieside Cres
Garson, MB R0E 0R0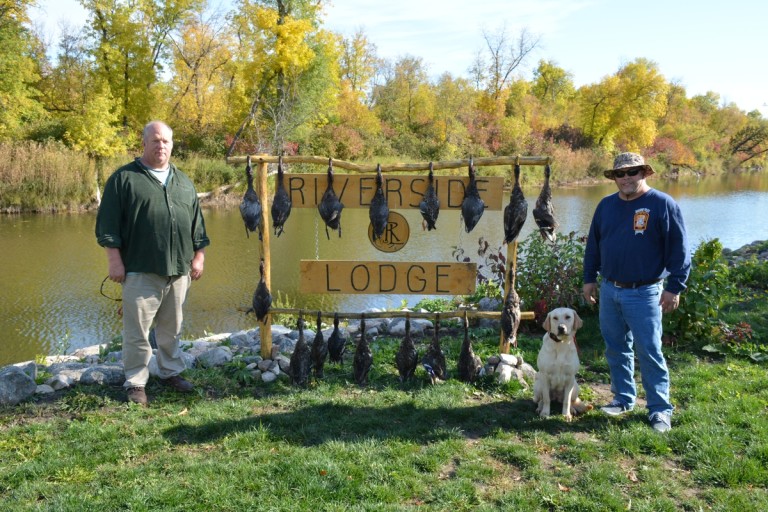 Learn More
Riverside LodgeBox 358
Dauphin, MB R7N 2V2