Fishing For Giant Fall Lakers - Manitoba Hot Bite
Connecting with a laker on rod and reel is a unique experience.
HuntFishMB - Eric Labaupa
The brute power that this pelagic lake dweller can exert at the end of your line is comparable to only a few other sport fish. Big or small, there is often little doubt as to what you have hooked into when you feel their signature head thrashes and line screaming runs.
A deep water inhabitant for much of the year, the fall spawning season calls massive schools of lake trout into the relative shallows. On Clearwater Lake in Manitoba's Northern Region, this mass migration begins around mid-September and steadily intensifies as the water temperatures drop down to the low 50s and into the 40s. Plan a trip to this lake, just outside the town of The Pas, from early to mid-October to target these voracious predators during the hot bite.
On a recent trip we ventured to Evergreen Resort located at the west end of the lake in Clearwater Provincial Park. The third week in September is traditionally just a tad early to expect huge numbers of trout we were told, although we remained optimistic as the water temps were falling rapidly. It was amusing how confident we were, seeing as not one of us four had ever fished this huge lake before. The well known reputation that Clearwater has for pumping out giants was enough to make us think we had a puncher's chance of landing at least a few.
As we rolled up to the Pump House boat launch on the south shore at daybreak, we were taken aback at how truly massive the lake actually was. No islands that we could see and just endless water to the northern horizon. Our amazement was short lived however as consecutive trout broke the surface jumping clear out of the gin clear water not twenty yards from the dock. A mad rush to get the boat in the water ensued and we were on our way.
There is a seasonal closure on the western part of Clearwater from September 15 to and including October 6 to protect the majority of the lakers during the spawn. The closed area border generally runs from the southwest corner to the northeast corner. This was actually helpful as it narrowed down the lake somewhat so we could decide on where to fish. Working from the boat launch and going east towards Carpenter's Lodge we targeted sharp dropoffs where the depth would go from 45 feet to 25 feet in a hurry. The first plan of attack was to cast, jig, and slow troll white 5" swimbaits on 1/4oz jigs along these edges. I won't even mention the second plan of attack as we never did need to deploy it.
Almost immediately, we began to hook into nice 25" or so lake trout who were absolutely slamming the plastics on the random casts around the boat. Quite often we could see them dart and take the lures as the water is so crystal clear. I hooked into one considerably larger not long after and it took several minutes to get it to the net. Half an hour into the trip and we had a monster 40 inch laker in the boat.
The average size we saw that day ranged from 23 to 29" inches. Two Master Angler catches at 40 and 38 with a bunch of heavy trout that hit 33". Experimenting with different sized spoons and jigging tubes also resulted in a few feisty fish as well. By the end of the day we successfully boated over 75 lake trout with two anglers catching their first ever and new personal bests all around. Working a small area that ranged from 22 to 28 feet depth was the most productive for us.
As we trailered the boat at the end of the trip we watched in awe as an angler on shore hooked into a few nice ones casting a red devil spoon. If this kind of action wasn't prime time yet for the lakers, I can't even imagine what the Hot Bite will be like.
Watch this episode of Manitoba Hot Bite to see highlights of our day on Clearwater Lake.
For more information on fishing for lakers in Manitoba visit our Lake Trout page.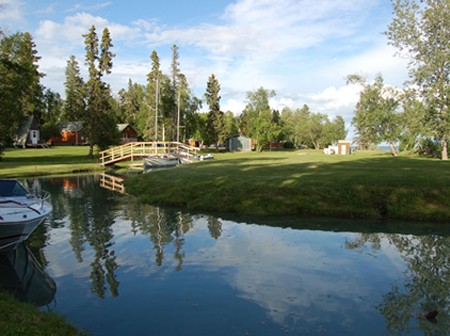 Learn More
Evergreen ResortBox 1228
THE PAS, MB R9A 1L2