Ice Fishing Lake Winnipeg in a SnoBear - Nicole Stone Outdoors
Ice fishing on Lake Winnipeg has blown up in popularity over the last number of years.
Thousands of anglers each winter head onto the lake, in search of the giant walleye that reside beneath the ice. The special part about Lake Winnipeg, is that any angler who drops down a line, has a legitimate chance at catching there personal best walleye at any moment. Every year, hundreds of trophy greenback walleye are submitted into the Manitoba Master Angler Program, proving what a special and consistent fishery it truly is.
When it comes to ice fishing Lake Winnipeg there are many options for knowledgeable guides. One option is Icebound Excursions; Icebound offers anglers the completely unique experience of heading onto the lake in the luxury of a SnoBear. This allows Mat Hobson, owner/operator of Icebound, the ability to take anglers out on the ice, no matter the weather or temperature.
Recently Nicole Stone and Ana Leschishin made the journey north to Manitoba, to traverse the notorious Lake Winnipeg in the comforts of a SnoBear with Icebound Excursions.Watch the video below.
To go ice fishing on Lake Winnipeg with Icebound Excursions, visit the Icebound Excursion website.
To enjoy the the affordable comfort of the Canalta Hotel in Selkirk, book a room on the Canalta Selkirk website.
To watch part 2 of Nicole and Ana's Lake Winnipeg Trip, Visit the Nicole Stone Outdoors YouTube page.
For more information about ice fishing in Manitoba visit our Ice Fishing page.
*Protect Manitoba's water and resources. Stop aquatic invasive species. For more information on how to do your part visit the Sustainable Development AIS page.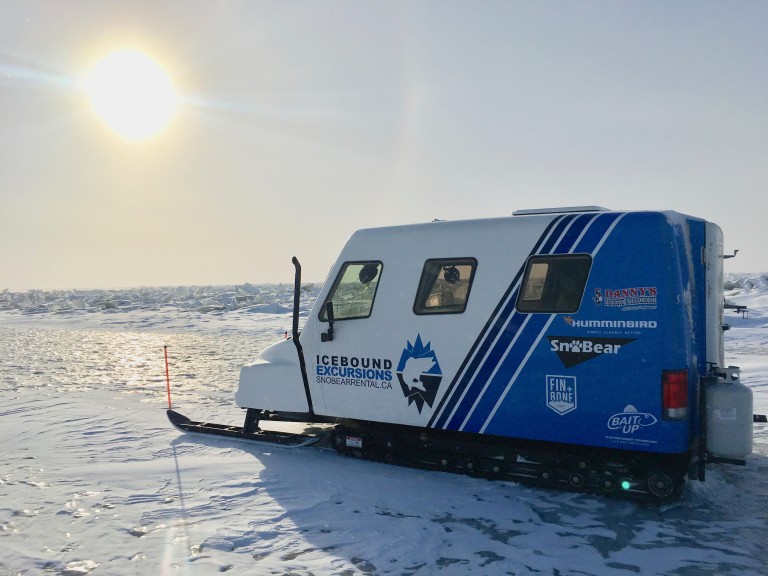 Learn More
Icebound ExcursionsP.O. Box 201 St. Norbert
Winnipeg, MB R3V 1L6