Ice Fishing Lake Winnipeg with Icebound Excursions - Jay Siemens Vlog
Ice fishing on Lake Winnipeg has become one of the most bucket-list trips, for trophy walleye anglers.
Any angler ice fishing on this massive body of water has a legitimate chance of smashing their personal best walleye, every time they drop down a line. For any new or experienced angler coming up to ice fish on Lake Winnipeg, there are a number of experienced and knowledgeable guiding outfits that specialize at putting you on that Master Angler greenback walleye of a lifetime. One of the options of a guided trip is Icebound Excursions. Operator and guide Mat Hobson is no stranger to huge Lake Winnipeg greenback walleyes and offers the unique experience of traversing through this frozen world in the comfort of a SnoBear.
Jay Siemens, accompanied by his wife Sam, recently joined Mat with Icebound Excursions, to try their hand at ice fishing Lake Winnipeg for giant greenback walleye from the SnoBear.
For more information on ice fishing Lake Winnipeg with Icebound Excursions, check out the Icebound Excursions website.
Checkout our HuntFishMB ice fishing page for more ice fishing destinations in Manitoba.
*Protect Manitoba's water and resources. Stop aquatic invasive species. For more information on how to do your part visit the Sustainable Development AIS page.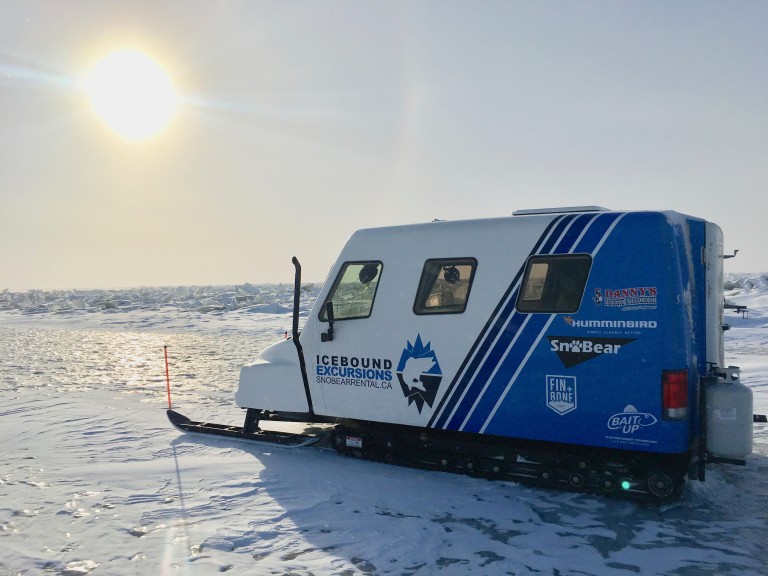 Learn More
Icebound Excursions1195 Pembina Hwy
Winnipeg, MB R3T 2A5