Incredible Northern Manitoba Fishing at Dunlop's Fly in Fishing Lodge
Dunlops Fly-in Lodge is a small family-run business located on Lake Waskaiowaka on the headwaters of the legendary Little Churchill River over 500 miles north of the US border.
This renowned destination is known for its incredible pike fishing. Many guests book their trip year after year for the pursuit of a trophy pike; However, many are surprised when they experience the amazing walleye fishing that Lake Waskaiowaka has.
The cozy main lodge serves as your home for the week and is a great place to kick back, enjoy a delicious meal and relax after another perfect day of pike fishing. Dunlops only serves 16 guests per week to achieve an extremely intimate experience. They take pride in providing their guests with great care and personalized service that can only be achieved in a smaller camp setting. Here, they treat their guests as great friends and you'll never feel like you're just a number, nor will you ever get the feeling that you're crowded and leaving the dock in the morning will be a pleasure, without confusion or it feeling like it's a race to get out to the fishing spots.
All of their guest cabins have a breathtaking view of Lake Waskaiowaka and its magnificent sunsets. With total comfort in mind, each cabin is equipped with all of the essentials: showers, indoor plumbing, and 24-hour generated electricity. Every day, the cabins are serviced with fresh towels and light housekeeping. We have 6 guest cabins, ranging from 2, 4, and 6-person units. There is also a satellite phone and high-speed Internet available.
With Dunlop's exclusive allocation, there are no other lodges, communities or local fishing pressure. The lake itself is 24 miles by 14 miles across with access to multiple river systems. With a maximum of 8 boats heading out on the lake each morning it truly will feel like you have the lake to yourself. A fishing day consists of big numbers of pike and walleye with a high pike trophy potential in each cast. Throughout the season guests will experience pike fishing in a number of forms, from shallow bays in June, weed lines in July, to main lake cabbage come August. No matter the time of the trip, they will be able to get you on some incredible pike fishing.
The Journey to Dunlops consists of driving or flying into Winnipeg, from there, guests can either fly or drive into Thompson where there will be a charter waiting to take you on the 90-mile flight to Dunlop's 3000-foot private airstrip. Once arriving at the Lodge you then have the choice to stay back and experience the main lodge or get adventurous and try one of their two fly-in Outpost camps.
Check out the video below to get a feel for what the Dunlops Fly-in Lodge's Experience is all about!
Click on the following link for more information on Dunlops Fly-in Lodge
*Protect Manitoba's water and resources. Stop aquatic invasive species for more information on how to do your part visit the Manitoba AIS page.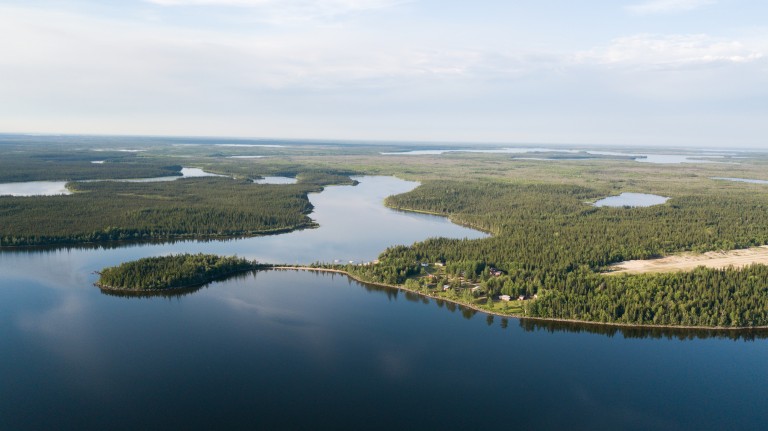 Learn More
Dunlop's Fly-in Lodge & Outposts48 Bluebird Lane
La Broquerie West, MB R0A 0W1