Manitoba Ice Fishing Report – January Recap
With the unseasonably mild weather and countless trophy fish – few anglers could have asked for a better way to kick off the new year.
January is a month that can put even the most hardcore ice anglers to the test with the bitter colds and the seemingly endless snow as we get into the dead of winter. However, this year has been off to an exceptional start for those who took advantage of the opportunities January has brought across Manitoba. In this Ice Fishing Report we cover some of the best bites around the province from the last month.
Lake Trout – The Ultimate Winter Game Fish
If you're getting on the ice this winter, ice fishing for lake trout can be some of the most exhilarating fishing you can experience. The waterbodies that typically hold lake trout are deep, clear lakes that are late to freeze. By January, these lakes have frozen over and the incredible fishing they have to offer is accessible to all anglers. Whether you're looking for cozy accommodations at one of the countless drive-to locations or a pristine backcountry adventure, there is something for everyone looking to experience the thrill of lake trout fishing.
Angler Cory Burke with a 109.98 cm / 43.30 in. lake trout from Athapapuskow Lake
Northern Manitoba offers several opportunities to target these fish through the winter. Athapapuskow Lake has been seeing some massive fish caught in the last few weeks, with recent reports of good travel conditions and a hot bite. Bakers Narrows Lodge provides top-notch accommodations on the lake for those looking to make the drive-to trip to experience all this incredible fishery has to offer.

Angler Carlie Geres with a 90.17 cm / 35.50 in. lake trout from Clearwater Lake
Clearwater lake is another popular lake trout destination which sees countless 40 inch plus giants caught throughout the season. Located only a short drive from The Pas, Evergreen Lodge & Resort offer fantastic accommodations right on the shores of Clearwater Lake and Clearwater Outfitters knows the lake like no other. If you're looking to experience a thrilling, drag peeling adventure, a trip to these world-class lakes is a must this winter.
Walleye – Trophies of Lake Winnipeg & the Prairies
Angler Janessa Barnsdale with a 77.47 cm / 30.50 in. walleye from Lake Winnipeg
Lake Winnipeg continues to show the world-class walleye fishery that it is with all the giant greenbacks caught the last few weeks. The snow conditions on the lake have remained relatively low for this time of year which allowed for great accessibility onto the lake for wheeled traffic.

Angler Tony Forrester with a 77.47 cm / 30.50 in. walleye from Lake Winnipeg
On the west side of the province, Lake of the Prairies is a prime hot spot for big fish in Manitoba's Parkland region and continues to put out some massive prairie gold walleye!

Angler Roger Geres with a 76.20 cm / 30.00 in. walleye from Lake of the Prairies
Yellow Perch – Giant Panfish
When it comes to perch, the bountiful lakes across the prairies have been offering anglers great opportunities to target some giant perch lately. Often found schooled up, perch can make any winter day a hectic one and are some of the most accessible species to target for anglers throughout the winter.

Angler Dan Thibeault with a 33.02 cm / 13.00 in. yellow perch from West Shoal Lake
A light rod paired up with a small tungsten jig, or a small spoon is a simple but deadly combination for targeting perch.

Angler Jessie Belot with a 34.29 cm / 13.50 in. yellow perch from West Shoal Lake
Yellow Perch are some of the most common species found within the lakes of Manitoba, however not all the water bodies grow them as fast and large as some of these popular lakes. Both East Shoal Lake and West Shoal Lake as well as Lake of the Prairies and Pelican Lake, produce large perch and are popular options for many anglers looking to target some of these pan fish.
Northern Pike – Trophy Greens
When most anglers consider ice fishing for pike, they think of tip up fishing in the warm days of March, however huge northern pike are caught all winter. Anglers have been taking advantage of the mild weather and catching some massive northerns through the ice.

Angler Alcide Grenier with a 109.00 cm / 42.91 in. northern pike from Lake Winnipeg
If you're looking to target trophy pike, the Winnipeg River, Lake of the Prairies or Lake Winnipeg and its tributaries are popular waterbodies, producing some pike well over the master angler size! A tip up with a dead bait is classic combination that puts countless pike on the ice every winter.
Angler Genico Melegrito with a 113.50 cm / 44.69 in. northern pike from Lake of the Prairies

Unique Catches of January
With the incredible variety of trophy sized fish Manitoba offers, there is always the opportunity to target different species and sometimes some that are less commonly caught through the ice.

Angler Joshua Loewen with a 129.03 cm / 50.80 in. lake sturgeon from the Assiniboine River
This month, these anglers had some unique catches like this massive sturgeon out of the Assiniboine River and a huge largemouth bass out of Mary Jane Reservoir.
Angler Trevor Taylor with a 50.80 cm / 20.00 in. largemouth bass from Mary Jane Reservoir

I hope you enjoyed this months Manitoba ice fishing report, tune into the next one later this month to learn of all the best Manitoba angling opportunities for February and how to prepare for the March madness that is to come.
Written by: Petro Hrynda
Check out Jay Siemens The Complete Guide to Ice Fishing for more information on ice safety and everything you'll need to know to get on the ice this season!
Check out our HuntFishMB Ice Fishing Page for the next Ice fishing report, opportunities and more!
Celebrate the greatness of fishing in Manitoba, Submit your next trophy catch to the Manitoba Master Angler Program.
*Protect Manitoba's water and resources. Stop aquatic invasive species for more information on how to do your part visit the Manitoba AIS page.
Learn More
Bakers Narrows Lodge#1 Hwy 10, Bakers Narrows
FLIN FLON, MB R8A 1N1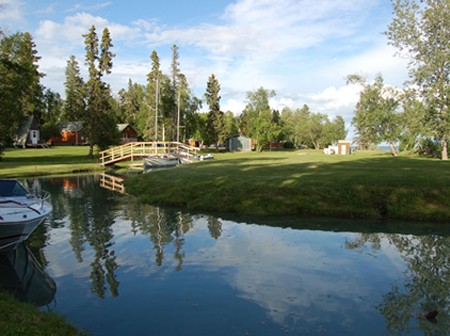 Learn More
Evergreen ResortBox 1228
THE PAS, MB R9A 1L2