Shorelunch: Sarah's Walleye Dip
Tobias and Ellen are the brand new owners of Shining Falls Lodge.
In the kitchen, Ellen's sister Sarah occasionally helps with the cooking. Everything—and I mean everything—is downright delicious, but there was one of her dishes that just hasn't left my mind. Walleye Dip.
Sarah shared her recipe, but I didn't write it down. So here's my version, likely with a few modifications.
2 walleye filets
½ tsp dried dill or 2 tsp fresh dill
3-4 whole peppercorns
1 8-ounce package cream cheese
1 cup shredded cheddar
½ cup mayonnaise
1 tsp hot sauce
1 tsp chipotle hot sauce
1 Tbsp chopped fresh chives
1 Tbsp chopped fresh parsley
½ lemon
In a small frypan, poach filets in 1 cup of water seasoned with dill and peppercorns. This should take about four minutes. You know it's done when the fish turns white. Remove from water and drain on paper towel.
Combine softened cream cheese, cheddar, mayonnaise, hot sauces, chives, parsley and fish. Mix well. If you're at home, pour into glass pie plate. Bake at 400F for 10-15 minutes. If you prefer a crusty top, broil for an additional five minutes. If you're not at home, scoop the mixture into a foil pan (or a packet made from rolled foil), seal it tightly and set it over a medium fire (campfire or grill).
Remove for oven, campfire or grill, squeeze the lemon over top. Serve with hard crackers or torn bread.
—Shel Zolkewich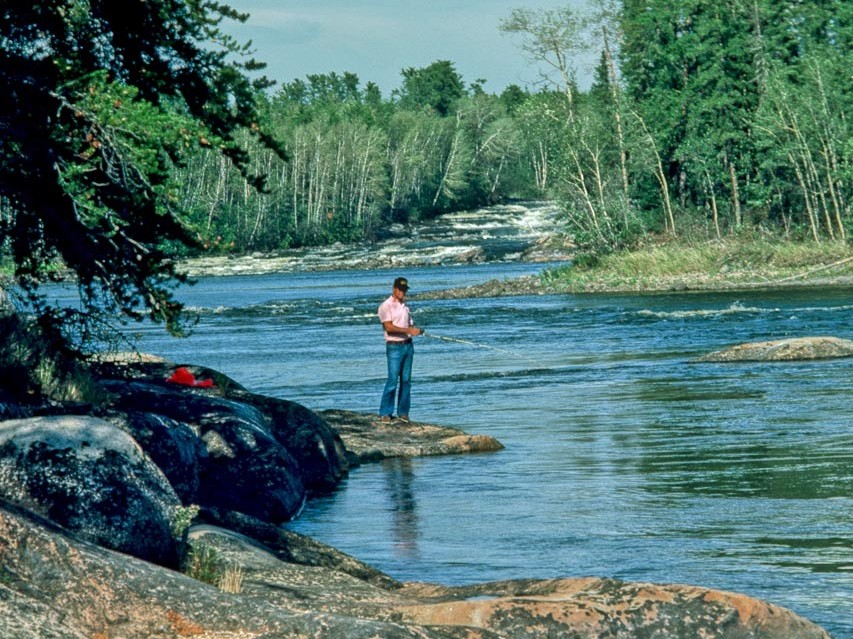 Learn More
Shining Falls Lodge1 Read Ave
Whitemouth, MB R0E 2G0