Three "Must Experience" Manitoba Waterfowl Hunts
Living in Manitoba is a dream for anyone that identifies as an avid waterfowl hunter.
Manitoba waterfowl hunts thrive in diversity. Classic field hunts, coastal snow goose hunts, big water diver hunts and prairie pothole hunts are contributors to waterfowl hunting's growing popularity in Manitoba. Diverse hunting environments, top notch outfitters, premier flyways and generous seasons round out Manitoba's waterfowl mecca. We literally have it all!
Ocean to Tundra
In the last couple years, three different Manitoba waterfowl hunts I've had, stood out from the rest and really created a holy trinity of waterfowl hunting for me. The first of the three was a once in a lifetime opportunity to go up to Kaska Goose Lodge. Kaska is a remote fly-in hunting lodge on the coast of Hudson's Bay in Manitoba's Northern Region. Perfectly located at the top of the Mississippi Flyway, hunters at Kaska are rewarded with incredible multi-species waterfowl hunting. From greater to lesser Canada geese, snow geese, Sandhill cranes, many species of ducks, and much more, Kaska has it all.

Blue Beauties - To date, I believe that 'Blues', a type of snow goose, is one of the most beautiful species of waterfowl that I have ever harvested. They are beautiful birds, but when they're fanned out like Adam is here, they have an unbelievable wow-factor. If you take a blue feather and look at it closely, the colour gradient, design, and detail is absolutely incredible.
It's hard to explain the feeling of sitting in a blind in the remote tundra, with Hudson Bay in sight, while tens of thousands of snow geese fly over you. It's simply mesmerizing. The environment that the hunts take place in is a fascinating fringe of ecosystems. The landscape goes from an ocean, to a beach landscape sparse of trees. Then quickly transitions into tundra that leads right into the notorious boreal forest. All of this in just a matter of miles. This affords hunters phenomenal views and offers fantastic waterfowl habitat. The highlight of my trip came from a hunt in this fringe. This is where I harvested a blue goose, which is a type of snow goose. They're stunning, rare for where I'm from, and incredible table fare.

Forestry Fringe - A memory that will often stick with me when traveling to a new destination is the last few views before arriving at the destination. In the case of Kaska Goose Lodge, with the prolific Hudson Bay within sight, my arrival to Kaska provided me with one of the most amazing geological fringes I've ever seen. It was geographical perfection. Ocean, to beach, following the brackish river mouth, to sparse tree growth, to thick boreal forest, all in one photo.
Where Kaska really sets itself apart from other Manitoba waterfowl hunts, is in the overall experience. From wildlife sightseeing featuring polar bears, moose, black bears, and much more. To stunning landscapes Of many varieties, there is never a dull moment at Kaska. And we haven't even got to the party piece yet; Kaska Goose Lodge has their own helicopter for scenic tours as well as transportation to remote hunting locations. All of this affords hunters a truly once in a lifetime experience and it is a hunt that I will never forget.

Over the River and Under the Bush - During our stay at Kaska Goose Lodge, one of the staff members demonstrated a great party piece. Kaska overlooks the Kaskatamma River and upon standing just on our cabin's front porch, the staff performed a cow moose call. Sure enough, just a few minutes before dinner was served (a 10z steak by the way) a big bull moose arrived right on schedule on the other side of the river to investigate the call. He sat there long enough for a photo and it's a moment I'll never forget.
Prairie Paradise
About a year later, I had the opportunity to go to Birdtail Waterfowl in Manitoba's Parkland Region. Located perfectly within the Central Flyway, Birdtail is truly located in some of the most prime waterfowl territory there is. The Prairie Pothole Region provides waterfowl with the perfect habitat for a quick stop or staging grounds as they make their big trek south. Subsequently, this gives the region phenomenal hunting opportunities.


First Light in the Field - One of the most majestic parts of waterfowl hunting is how it relies on the sunrise. When the clouds part and you're gifted with a beautiful sunrise, there's no better place to appreciate it than in the field. Ducks doing low flyovers over the blind, honks in every direction, and the calm beautiful sky painting the canvas for what is about to be an amazing hunt.
Besides their famous field duck hunting and world class Sandhill crane hunts; the Canada goose hunting was the best I've ever experienced. Quality and quantity were offered every hunt I went on and it really felt like it couldn't get any better. There's nothing quite like seeing a giant Canada goose right on your doorstep as you pop up out of the blind. It's incredible. There was one flock in particular with about two dozen honkers that circled us once and instead of coming in straight up the pipe, they tried to land in the spread while coming at a left to right trajectory only 10 yards in front of us! It was so close it felt like I could almost reach out and grab them. Waterfowl hunting is taken to a whole new level when the birds are not just within shooting range, but up close and personal. This was a sensation I experienced time and time again at Birdtail Waterfowl.

Take 'em - Three guests let the shells fly as a huge flock of Canada Geese decoy our spread. At Birdtail Waterfowl, guests get a lot of trigger time thanks to the incredible guides. From clever spread setups to strategic calling and solid hunting IQ, Birdtail guides get the job done.
Although Birdtail's hunting is phenomenal, where Birdtail sets itself apart from other destinations, is industry-leading service. Every aspect to improve the experience of a guests' stay at Birdtail is calculated, thought of, and covered. The chefs provide delicious, hearty meals every single day, making it hard to leave at the end of the trip. The guides at Birdtail are nothing short of incredible. Their ability to predict, adapt, and execute on hunting strategies and game plans, make for some of the best hunts I've ever been on. In sports they tell you to 'leave it all on the field', and at Birdtail, they do just that. And then there's Paul. Owner Paul Conchatre is a champion in the industry and strives to make the best hunting destination around. Paul's drive to perfect every aspect of his business, creates the ideal role model for all staff at Birdtail, making everyday a simple yet effective road-map to a top-tier hunting destination.

Guide Life - A Birdtail Waterfowl guide makes his way back to the blind to award the guests with their harvest. This is just one example of the countless acts that a guide performs in order to create the best possible experience for the guest. A guide can make or break a hunt, and at Birdtail, they make it. Birds in both hands and head down, this is the guide life.
Inland Oceans
Lastly, only a few weeks after my trip to the Prairie Pothole Region. I went to the adjacent marshes of Lake Winnipeg in Manitoba's Interlake Region. The goal was to hunt a variety of puddle and diving ducks. In the early hours of the morning, when the sky was still completely dark, we boated out on a channel to the shores Lake Winnipeg to find the perfect place in the marsh to setup our spread. After finding an ideal place to setup, we camouflaged the boat, set our decoys and waited for the sun to rise. As soon as the sun hit the horizon, the lake came alive with a whirlwind of waterfowl. Ducks, geese and cranes flew by the thousands in every direction.

Between the lines - Marsh reeds are one of the most prolific mental images of waterfowl hunting. All of our camouflage is based off those reed patterns. If you spend any time hunting in the marsh, you know that a good reed pattern is key to a successful waterfowl hunt. Adam, outfitted in this reed camouflage pattern, hides flawlessly in the shadows of the reeds as he calls the incoming ducks.
Hunting from a boat adds a very rewarding aspect to a hunt. Often when you're hunting a field, there's some sort of road within sight. On Lake Winnipeg, you can get deep into the marsh which is far more secluded from civilization than fields typically are. It makes you feel even more in the birds territory and makes it even more rewarding when you trick them into decoying your spread. Especially with the fast flying ducks, once they dip, dive, cup, and drop their feet; it's game over.

Incoming - Feet down, wings cupped, and dipping and diving to find a place to touch down, there's nothing that gets the adrenaline pumping more than this sight. When you see this right on your door step, you know your spread was good, calling was appropriate, and concealment was on point. It's at this moment that all the hard work pays off.
The Interlake Region of Manitoba is home to a handful of excellent waterfowl guide services. For those looking to capitalize on the opportunities in-between the inland oceans of the Interlake, an excellent option for a big water hunt like I had, is Sleeve Lake Outfitters.

Hidden Gem - When you know you have a bird down, but aren't entirely sure on the exact location, it can easily become a hectic little game to find the downed bird. That being said, all challenges come with a reward and seeing the vibrant blue wing of this duck made for both fantastic reward and a great photo. The gorgeous colour and design of the wing is a sight that only a hunter can enjoy up close and personal. Often, moments like this when a hunter can admire the beauty of a harvest only makes them admire and appreciate the harvest even more.
With these fantastic Manitoba waterfowl hunts available within the province, they will leave you wanting nothing more. Every box is checked, t's are crossed and i's are dotted. Every waterfowl experience you could ask for is here. Whether its Northern Manitoba at the top of the flyway accessing remote hunting spots by helicopter, the Parkland Region hunting fields and potholes at one of Canada's premier waterfowl lodges, or the Interlake Region hunting for migrating ducks on the largest lake in Manitoba. If you want waterfowl, you want Manitoba.

Field Jewellery - After a successful volley, there's nothing more rewarding than this sight; the small, shiny, iconic sight of field jewellery on the foot of a bird. On our last day of hunting, one of the guests was lucky enough to bag this Canada goose band. I got to watch the guide retrieve the bird, realize there was a band, and run back to the blind to show the guest the prize. It was a moment that made the hunt for me and probably made the trip for the hunter.
Checkout our Waterfowl page for more Manitoba waterfowl hunts within the province.
Celebrate the experience of hunting in Manitoba, submit your harvest to the Manitoba Master Hunter Program.
HuntFishMB Contributor – Marcel Laferriere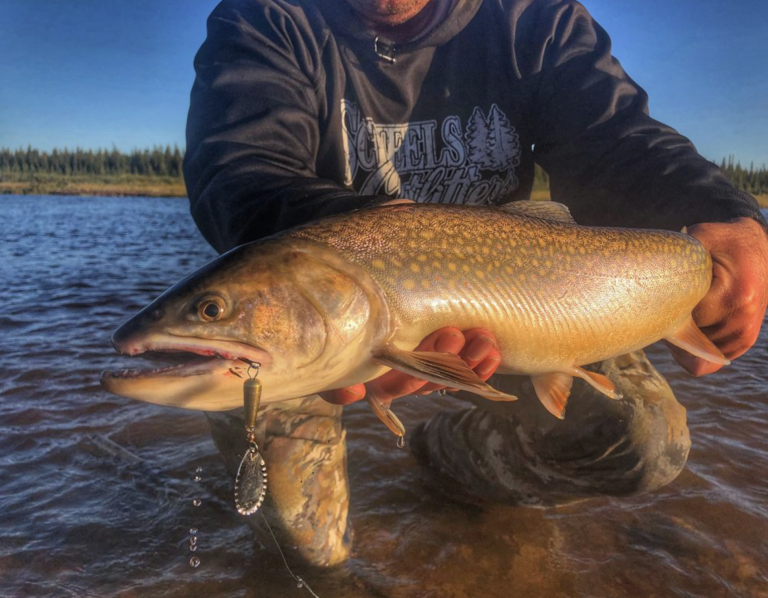 Learn More
Kaskattama Goose Lodge.
Cape Tatnam, Hudson Bay Coast, MB .