Trophy Lake Trout Fishing on Clearwater Lake - Manitoba Hot Bite
The Northern Region of Manitoba is well known for having some of the best trophy lake trout fishing in Canada.
HuntFishMB - Eric Labaupa
One of the premiere drive-to lakes in the region is Clearwater Lake just north of the town of The Pas. Master Angler fish hitting the 35inch benchmark are commonly caught here, with the chance of hooking into a lunker laker eclipsing the 40inch mark possible at any time. On a recent trip there, I headed out with popular guide and lodge owner Jim Lorden to target late spring lakers on this massive lake.
I arrived at Carpenter's Clearwater Lodge just before noon under hot and sunny conditions. Located in Clearwater Provincial Park, the lodge is just over six-hour driving time from Winnipeg. Waiting for me on the deck of my gorgeous three-bedroom cabin were the friendly lodge operators Jim and Sue. Wasting no time, I quickly threw my gear inside and we headed straight for the dock. Joining Jim and I on this day was Alan McLaughlan, long time area resident and former Mayor of The Pas.
The ride out to the hot spot was smooth and comfortable in their 21foot Lund Pro-V guiding boat. Clearwater being a wide-open lake is notorious for getting rough during higher wind conditions, but this rig would be able to handle the most menacing of waves if the need ever arose. As Jim idled down in an area on the eastern side of the lake, we immediately began to see large marks on the sonar in 60 feet of water. Being mid-June, Jim informed us that it was typical to see large schools of trout travelling at these mid-depths. With the gradually warming water, they begin to migrate from shallower areas to the deepest holes in the lake.
Eager to get my line in the water, I tied on a standard white plastic tube jig. The ever-popular lure is a tried and true presentation for trophy lake trout. To make the offering even more enticing, Jim suggested we add a chunk of cut bait sucker as a trailer. He also occasionally threw some chum pieces into the water to attract more fish. It was quite amusing to see chum falling on the fish finder and then a large mark appearing mid-column to intercept it.
Dropping a lure down to sixty feet or more of water isn't unusual for lake trout fishing. For an avid walleye angler like me however, it seemed to take forever to get there. I got over it pretty quick though when I closed the bail, reeled up the slack, and felt the rod tip pump back down to the water. First drop of the day and fish on in a matter of seconds. The average size of lake trout caught here is around 24-28 inches or roughly 3-5 pounds. The lake is absolutely teeming with schools of these hard-fighting fish.
After we boated about a dozen trout, Alan set the hook on yet another one. After a few cranks of the reel, all he could do was hang on as this fish didn't want to leave the bottom so easily ripping line out as it dove back down. The strikes, especially at these depths, feel very similar whether the fish is smaller or massive. We never really knew what we had on the other end until a good number of winds of the reel. After a few pulse-pounding minutes, Jim netted a beautiful silver specimen laker. It measured just short of a Master Angler at 34inches, but Alan wasn't complaining one bit. Not to be outdone, I was able to hook into a girthy tank trout that measured 37inches not that long after. Altogether we boated over thirty lake trout in one afternoon of fishing with more than a handful in the trophy class of fish.
One option during a guided fishing trip with Jim is a freshly prepared shore lunch. I headed out with Jim once again in the morning to try the morning bite, but all I could think about was eating at noon. We kept a couple out of the pile of fish we caught that morning and Jim whipped up an amazing meal of deep-fried breaded trout and fresh cut potatoes.
Completely stuffed, we headed back out to battle some more lake trout. The action was intense, highlighted by an instance of an average sized catch getting slammed by an absolute monster halfway up. I was able to witness it chasing my hooked fish all the way to the surface. The bite marks did some damage to an otherwise beautiful fish.
Lake trout are catchable on Clearwater throughout the open water season. The spring ice out and fall spawning periods however are prime 'hot bite' windows for both numbers and size. Carpenter's offers several options to get in on the action. Aside from booking a guided trip with Jim, anglers can also rent one of their boats and hit the water on their own and/or book accommodation at one of their fabulous cabins.
For more information visit www.carpenterslodge.com
*Travel Manitoba staff was hosted by partner Carpenter's Clearwater Lodge, who did not review or approve this story.
*Protect Manitoba's water and resources. Stop aquatic invasive species. For more information on how to do your part visit the Sustainable Development AIS page.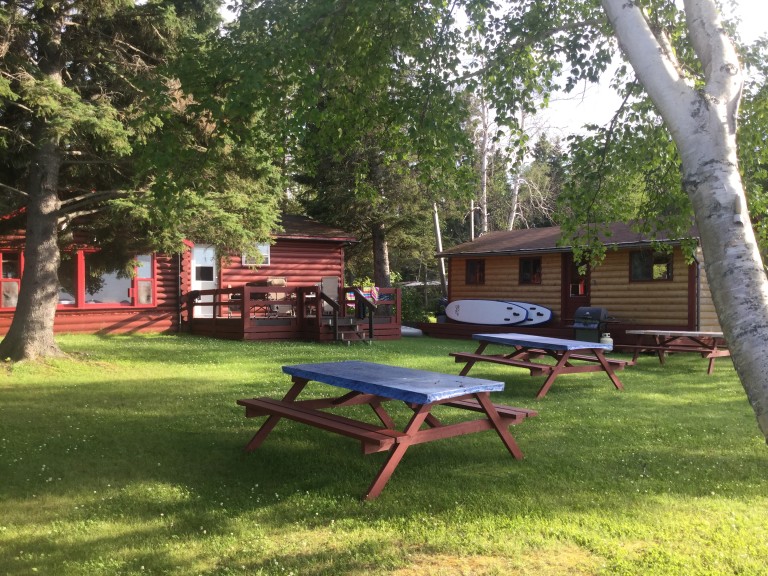 Learn More
Carpenter's Clearwater Lodge128 Campbell Dr.
Clearwater Lake, MB R9A 1K7