Unreal Bass and Walleye Fishing at Q Lake Lodge - Manitoba Hot Bite
Some of the best smallmouth bass and walleye fishing in Manitoba can be found in the Eastern Region of the province.
HuntFishMB - Eric Labaupa
A prime example are the angling opportunities out of Q Lake Lodge located on Quesnel Lake. This top drive-to fishing trip destination is ideal for anglers looking to hook into trophy fish in the heat of summer.
Part of a chain of lakes, Quesnel also consists of the larger Manigotagan and smaller body of water Happy. Situated at the northwestern most end of Nopiming Provincial Park, this remote section is incredibly only within a three-hour drive from the City of Winnipeg. There are plenty of productive spots to explore and fish from just outside the camp to the farthest back reaches of the chain.
A prototypical Canadian Shield lake, lush mixed forest and exposed rock make up the majority of the landscape. Wildlife are abundant here with viewing opportunities possible at any time. We spotted an amazing number of moose during our stay including this majestic bull we happened by grazing on shallow vegetation. He let us drift within casting distance of himself before silently blending back into the green surroundings.
Surface water temperatures reach the low to middle seventies Fahrenheit here in the summer months. Employing mid open-water season walleye patterns are highly effective and are your best bet to find a school of walleyes during the warmest parts of the season. We had success at virtually every place we decided to drop lines in focusing heavily on deeper humps, points, and reefs. Pulling bottom bouncers and spinners baited with worms or drift jigging with frozen minnows or plastics seemed to work equally as well.
One of the most interesting things we found while walleye fishing was the wide variety in year classes. We caught a pile of chunky fish ranging from 16 to 26 inches. You never knew if the next bite would be one for the pan or a new lake record. Ryan dropped a tank of a fish just past the reach of my net at one point which could have quite possibly been just that. 30 inch plus walleyes are caught here every season with one of the longest ever caught in the province at 35.5 inches caught here in 2015.
The other part of the multi-species trophy combination at Q Lake Lodge are the huge smallmouth bass. The Master Angler bass fishing here is without question one of the best in Manitoba. With an average fish in the 3 to 4-pound range, every cast has you giddy with anticipation. We targeted typical rocky shoreline for the smallies but found that the most productive water was adjacent to deeper drop-offs into the main lake.
Long casts with plastics, in-line spinners, or crankbaits then quickly retrieved back to the boat resulted in vicious strikes from the numerous fat bass that we caught. The water here is copper stained so flashy lures and brighter colours work well. A pearl white swimbait fooled several four-plus pounders that were some of the biggest bass of the trip.
Friendly owners Peter and Carol Slobodzian are readily available to help with pointing out the hot spots and what to use. A one hour introduction to the water is complementary to all first-time guests with half-day and full-day guided trips also available. Guests can tow their own boats in or rent one from the lodge. Gravel protection for your rig and allowance of slightly more travelling time is recommended. Their fleet of 16, 17, or 18-foot tiller boats or one of their pontoons are always ready to go at their marina.
Guests can stay at one of their eleven comfortable cabins. Occupancy for 2 all the way up to 14 people in their largest cabin is available. Two of their cabins are also pet-friendly for those who want to bring their furry companions along. Anglers can also choose to camp on one of twenty-five maintained sites at the lodge campground or on one of eight designated private islands for an even greater secluded southern Manitoba fishing experience.
Q Lake Lodge on Quesnel Lake at Caribou Landing. For more information visit www.qlakelodge.com
Travel Manitoba staff was hosted by partner Q Lake Lodge, who did not review or approve this story.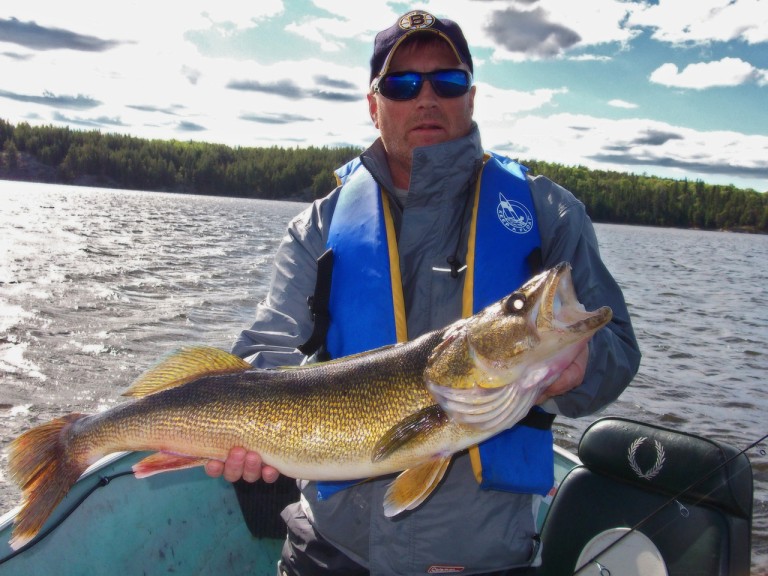 Learn More
Q Lake LodgeCaribou Landing
Nopiming Provincial Park, MB R0G 2V0