Epic Multispecies Fly-in Fishing at Elk Island Lodge – The New Fly Fisher
Elk Island Lodge on God's Lake
Elk Island Lodge on God's Lake, in Northern Manitoba, is a remote fly-in fishing lodge that is famed for its Northern Pike, Walleye, Lake Trout and Brook Trout fishing experiences. As the name implies, the main lodge is located on Elk Island on the shores of the pristine God's Lake.
The main lodge serves as a comfortable meeting place that is rich in history. Their massive fireplace is the centrepiece of the lodge and it gravitates guests around it. Strangers quickly become friends as you listen to the fire crack and watch the beautiful sunsets from the patio overlooking God's Lake. Each day their famous Elk Island breakfast and gourmet suppers are served in the main lodge, and the classic Canadian shore lunch experience is provided on the waters. The lodge also has all the amenities of home including wifi, sat phones, a hot tub, a pool table, and an incredible bar to wind down your evening. The cabins also include all the comforts of home and make for an excellent place to get a solid night's sleep in preparation for the next action-packed day on the water.
The journey to get there includes a short chartered flight in a comfortable plane from Winnipeg, MB. From there the plane lands right at the lodge on its beautiful private runway. Once arrived in the late morning, you will have a quick meal, and within your first couple hours, there is a good chance you would have already hooked into your first trophy fish!
The trophy fishing at Elk Island Lodge on Gods Lake is surpassed by no other lake in Manitoba – largely due to their experienced, friendly guides who know these waters like no other. These guides are also experts at navigating the famous God's River where some of the biggest brook trout in the province reside. At the main lodge, float planes are always at ready to transport you to one of many destinations along the Gods River to target these brookies. Upon landing, boats await to take you upstream where there are so much untouched trout waters, it is hard to determine where to even start fishing. The average brook trout here are in the 18-19″ range with many trophies swimming among them.
Check out this film from The New Fly Fisher Below, where they experience Elk Island Lodge to its fullest – From Monster Pike and Lake Trout to the Famed God's River Brookies
Check out our HuntFishMB Fly-in Fishing page for more information on fly-in fishing in Manitoba.
Click on the following link for more information on Elk Island Lodge.
*Protect Manitoba's water and resources. Stop aquatic invasive species for more information on how to do your part visit the Manitoba AIS page.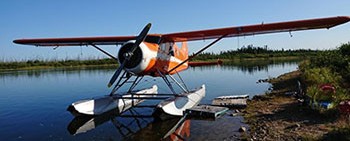 Learn More
Elk Island LodgeGods Lake
Gods Lake, MB -