Fantastic Fly-in Fishing Trips at Jackson's Lodge and Outposts - Manitoba Hot Bite
Manitoba has some of the finest fly-in fishing trips in all of Canada. World-class walleye and northern pike waters are only a short plane ride away.
One of the premier operations in the province is Jackson's Lodge and Outposts based out of Lac Du Bonnet in the Eastern Region. With twenty different remote lakes on their roster and a variety of service and lodging options, they are sure to have a trip to fit your budget and needs.
Amphibian Lake Lodge
We went on a four-day fly-in fishing trip to their lodge at Amphibian Lake a few weeks after opening day. Located at the far northern edge of isolated Atikaki Provincial Park, this lake is well known for its incredible walleye and northern pike fishery. Late May into early June is a prime window to target these prized sportfish so the excitement and anticipation amongst our group of three was almost uncontainable. Joining me on this adventure was Mike Dotoli and HuntFishMB Contributor Chris Chorney.
Adventure Air
We drove out bright and early from Winnipeg to their Adventure Air float plane base in Lac Du Bonnet. After a quick load of our gear by the multiple dock attendants, we were in the air and flying high over pristine boreal wilderness. Fifty-five minutes later we were stepping off the Otter plane and directly onto a couple of their 16-foot camp boats zipping to our favourite fishing hotspots.
What to Bring
Packing for fly-in fishing trips needn't be overly complicated. Essentials are appropriate clothing for the length of your stay preparing for possible warm and cool weather as well as bringing a good rain suit. Three rod and reel setups are my preference with one medium light for walleye, a medium heavy for targeting pike, and a medium action rod as a multi-use spare. Tackle wise, everything you need can easily fit in a couple of trays or regular sized tackle box. A collection of various size jigs, casting spoons, and your favourite plastic tails will do the job.
Fly-in Options
On this trip we were treated to the full-service experience of the American Plan. Delicious meals were prepared for us three times each day by our camp hosts Linda and Grant Cyr and our boats were gassed up and ready to go complete with bait and equipment every morning. Do-it-yourself options are available at all of their outposts as well as flexibility on booking lengths of stay. Incredibly, Jackson's also has day trip or camping opportunities at a few of their nearby boat cache lakes that are all isolated and loaded with walleyes and pike.
Walleye
Having been on this lake before, we headed straight to some faster current areas in the eastern river section we knew and expected the early season walleyes to be. Within minutes the first fish was on the line as Mike pulled in a small pike. Drift jigging at a neck down produced several more smaller pike so we moved on to a wider open flat to fan cast plastics in search of aggressive 'eyes. Several casts in and I felt the tell-tale th-thunk of a walleye strike.
Over the course of the trip we caught several hundred walleyes at different areas of the system. Massive schools of 15-17inchers were easy to come by jigging frozen minnows or small plastic grubs in the deeper holes. The chunkier 18-21inch walleyes were more scattered as we were able to pick off small groups of them here and there casting swimbaits in likely areas.
Northern Pike
Driving around the lake it was tempting to throw a lure at every piece of shoreline in sight as it all looked good for a big northern. The water level was lower by a considerable number of feet this spring so the well-known back bays and feeder creeks were non-existent on this trip.
We decided to focus on quiet water just off of current and the shallows adjacent to the deeper channels. Casting big spoons and bigger plastics resulted in massive bites from dozens of hungry pike. Mike caught the biggest one of the trip, a 41.25inch Master Angler.
Jackson's Lodge and Outposts
This well-organized family-operated business has been providing quality fly-in fishing trips in Manitoba for almost three decades. Every aspect is top-notch from their own in-house fleet of aircraft to well-maintained accommodations to having newer reliable boats and motors, they have the remote eastern section of the province covered. For help planning your next incredible fly-in fishing trip, your first float plane fishing adventure, or that unique fishing experience of a lifetime, contact Jackson's Lodge and Outposts.
HuntFishMB - Eric Labaupa
For more information about fly-in fishing in Manitoba, visit our Fly-in Fishing page.
*Travel Manitoba staff was hosted by Jackson's Lodge and Outposts, who did not review or approve this story.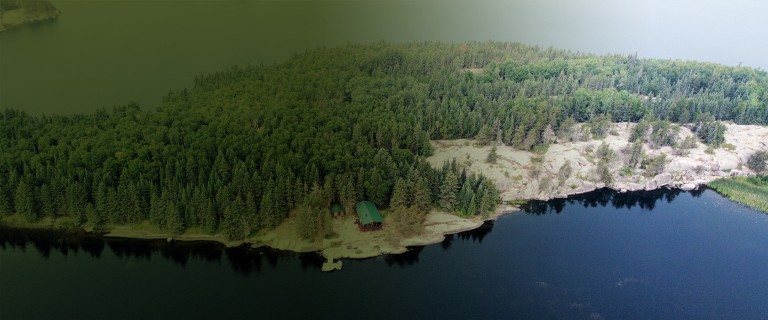 Learn More
Jackson's Amphibian Lake Lodge.
Amphibian Lake, MB .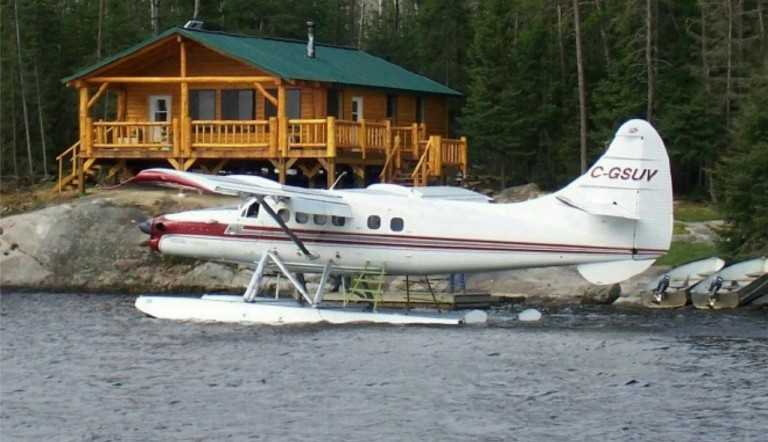 Learn More
Jackson's Lodges & OutpostsBox 670
Lac Du Bonnet, MB R0E 1A0