Head North for Fantastic Fall Walleye Fishing - Paint Lake Lodge
In Manitoba, as the leaves begin to turn colour and the water cools, fishing only gets better and better.
For a lot of species, there's no better time for a fishing trip than the fall months. My friend Austin and I headed North from Winnipeg at the beginning of September eager to experience fall walleye fishing in Manitoba's Northern Region. An easy half day drive lead us to Paint Lake where we stayed at Paint Lake Lodge with Owners Barry and Kathy Ruiter.
Fall Walleye Fishing
The primary focus of our trip was to target the region's iconic golden walleye, and hopefully lots of them. Paint Lake is known for boasting enormous quantity of walleyes year round, and the fall is no exception. The first day we were there, Barry took us out on his boat and guided us for the day. It was great to learn the lake from someone who knows it incredibly well, not just for fishing tips but boating hazards as well. Barry put us on fish at the first spot and we ended up fishing it for most of the morning because we just kept catching fish. The presentation was simple, using a selection of jigs with a leech just gently jigging them off bottom.
When it came to targeting an evening bite, Austin and I went out for a few hours before sunset and caught a bunch of gorgeous walleye within minutes of the lodge. You really don't need to drive far before you get incredible fall walleye fishing. Just as the sun was disappearing over the horizon, we put a smackdown on numerous chunky walleye using jigging raps. The bite was furious!
Bonus Fall Pike Fishing
On the day when Austin and I fished with Barry, after we hammered walleye all morning, we decided to take a stab at pike fishing. Barry said he knew of a bay close by that had pike and the vegetation should be right. Well, we got into the bay and it was full of sparse cabbage. We picked a point on the shoreline and started casting. It took about 5 minutes to catch our first fish when I heard a splash and then Austin, at the back of the boat frantically said, "It's decent". Austin has been a full time fishing guide in the summer for numerous years and knows a big fish when he sees one. So at this point, I'm thinking if Austin says it's decent, it's probably better than decent. Sure enough, it was better than decent. Measuring 42.5'' and what I'm guessing had to be 20 plus pounds, this giant pike absolutely annihilated Austin's gliding rap. The shoulders on this pike was exactly what you'd expect for big, hungry, fall pike in Northern Manitoba. From crushing hungry walleye to landing Master Angler pike, it was an amazing fall fishing trip on Paint Lake.
Guides, Boat Rentals and DIY Options
If you don't have a boat, don't want to drive yours up, or just want local knowledge on the lake and prefer a guided experience, hiring Barry to take you out inhis big boat is a fantastic option. You don't have to worry about towing a boat, navigating the lake, or finding fishing spots. It takes a massive amount of pressure of you and will only make your trip that much more enjoyable. That being said, there are other options available. Being a drive to destination, bringing your own boat and utilizing the lodge dock is an option for the do-it-yourself anglers. Additionally, Paint Lake Lodge also offers awesome rental boats. New 16 foot Alumacraft tillers with 25 horsepower Yamaha's allow you explore the lake in comfort.
Good Things Come in Three's
There's three really awesome things I like about Paint Lake Lodge: First, the angling options. Whether you want a guided experience, rental boat, or the do it yourself route with your own boat, they have an option for you. Second, The cabins are everything you need and more. Super clean, newly renovated with wifi, flatscreen TV's, hot showers, and full kitchens, the cabins make the fishing trip so much easier and more comfortable.
Lastly, the restaurant is to die for. You can't say you've been to Paint Lake unless you've been to the Paint Lake Lodge restaurant. Open year round, if you don't feel like cooking for yourself, the restaurant is there for you. With an attached lounge with a TV, pool table, shuffleboard, and a shop with fishing gear, it is a hub for everything you need whether you are on or off the water.
Top 5 Trip Tips
Here are some tips from my trip to Paint Lake Lodge that will definitely help you ad to the experience.
1. Leeches: Barry locally traps leeches and they are dynamite for walleye on Paint Lake, so make sure you take advantage of that.
2. Jigging Rap: Austin and I got onto a super aggressive walleye bite in the evenings and all we did was drive around looking for marks on the sonar and dropped on them with jigging raps. Don't be afraid to try something new.
3. Boat Electronics: Working with my previous point, I always recommend bringing your own electronics. We brought a Helix 7 with a suction cup mount and it
worked perfectly on the rental boat.
4. Restaurant: You haven't been to Paint Lake if you haven't treated yourself to a meal at the restaurant. Awesome food!
5. Downsize: We never felt the need to because the bite was so electric, but for smaller fish, you can often get more bites if you downsize your entire setup from rod, to line, to jig weight.
For more information about Paint Lake Lodge, visit the Paint Lake Lodge website.
For more information about drive-to fishing in Manitoba, visit our Drive-To Fishing page.
*Protect Manitoba's water and resources. Stop aquatic invasive species. For more information on how to do your part visit the Sustainable Development AIS page.
*Travel Manitoba staff was hosted by Paint Lake Lodge, who did not review or approve this story.
HuntFishMB Contributor: Marcel Laferriere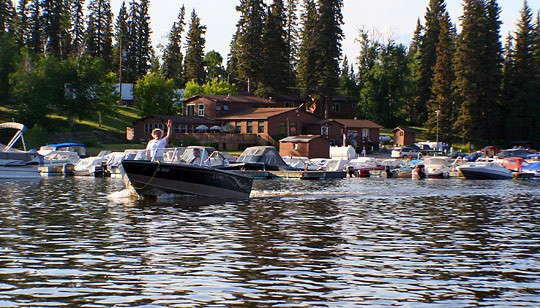 Box 327, Hwy 375 10 minutes off HWY 6 20 minutes south of Thompson Mb Thompson, MB R8N 1N1 (204) 677-9303 Website
Learn More
Paint Lake LodgeBox 327, Hwy 375 10 minutes off HWY 6 20 minutes south of Thompson Mb
Thompson, MB R8N 1N1