Incredible Multi-Species Ice Fishing - Viking Lodge, Manitoba
Viking Lodge, located in Cranberry Portage is truly an anglers paradise tucked away in Manitoba's Northern Region.
Owners Matt, Sharnell, Paul, and Anita Wiens operate the four-season lodge as a family - And that family vibe is evident immediately upon arrival when they go above and beyond to ensure you feel at home. Situated on the beautiful shores of the Cranberry Chain of Lakes, and close to a number of other world-class fisheries - Viking Lodge has become well known for its incredible multi-species ice fishing and open water opportunities - Which features beautiful coloured up lake trout, Master Angler sized walleye, and exceptional northern pike fishing. All of these species are showcased with an exceptional average size that few other locations have to offer.
Multi-Species Ice Fishing at Viking Lodge
Growing in popularity is Viking Lodge's ice fishing product. Beyond top-notch fishing and their excellent service, Viking Lodge has everything an ice angler could ever need. Instead of bringing a bunch of extra weight in jerry cans and propane tanks for your trip, they have both premium gas and propane refills right at the lodge. They also offer regular gas to top off your tank for the drive back south. Beyond that, instead of packing food for every meal of your trip, save space in your coolers and plan to enjoy a meal or two off of their tasty menu at the lodge's restaurant.
Another great benefit of Viking Lodge is their awesome tackle shop. Viking has the tackle and knowledge to ensure you have the tools for the job. Lastly, one of the most convenient aspects of ice fishing at Viking Lodge is their spacious winterized cabin. With 4 bedrooms and an open living area, they are sure to be able to accommodate your next trip without feeling crowded in the evenings.
Multi-Species Ice Fishing in Manitoba's Northern Region
This past January, I made the decision to re-visit Viking Lodge, which is one of my favorite locations, and fisheries in the province! On this trip, I was meeting my friend Marcel in Cranberry Portage where we would be fishing the Cranberry Chain of Lakes and beyond, with owners Matthew and Paul Wiens and their friend Dennis.
The plan for this trip was to spend a couple of days on second cranberry lake targeting lakers followed by a backcountry day for pike and walleye. I arrived Friday evening and met up with the entire Wiens family. After chatting with them for a bit we had our plan for the morning figured out and I was ready to hit the hay in my cabin in preparation for the morning of fishing ahead.
Lake Trout Fishing on the Cranberry Lakes
The morning quickly arrived after a comfortable sleep. I met up with Marcel first thing, got our gear together, grabbed a coffee from the lodge before embarking on our sled ride to the fishing spot.
The spot Matt and Paul set us up with was an awesome 60ft mudflat that the lakers cruise and feed on throughout the day. Marcel and I situated our tents, got the chum in the water, dead-lines deployed, and began our day of fishing.
Before Marcel and I were even set up, my deadline with a quick strike and cisco began peeling line. Quickly, I grabbed the rod, closed the bail, and set the hook. Fish on! I knew right away it was a laker from the unmistakable hard fight that they present. After a short battle, I was able to get the fish through the hole. It was a beauty near 30" trout and an awesome representative of the average size laker that comes out of this water. Marcel and I were super stoked to get the skunk out of the way first thing and were excited to see what the rest of the day would have in store.
Capping off the day of Lake Trout Fishing
As the day wore on, Marcel and I were lucky enough to catch a few more mid-sized lakers. Later in the afternoon seemingly out of nowhere an intense windstorm came rolling through. We frantically baton down the hatches of our ice shelters before hunkering down into the evening. As the sun began hitting the tree line, the bottom of the lake came to life with burbot. Before darkness completely fell over the landscape, we were able to hook into a few nice burbots as well as one last trout before packing up.
We made the short sled ride back to the lodge where Sharnell and Anita had an incredibly tasty pizza ready for us for our supper. After supper, I sat back and relaxed in the warm cabin watching some hockey, before calling it a night.
Day Two of Lake Trout Fishing
The following morning, Marcel and I geared up once again, grabbed a coffee from the main lodge, and had a brief meeting with Matt and Paul as well as their friend Dennis. Today we were heading to the same spot, with the same goal, to catch some lakers.
The morning started out with a slower bite. Throughout much of this time, we were consistently marking fish along the bottom couple feet of the water column, but we could just not trigger a bite from them. Later in the morning Paul and Matthew began to notice that only the higher-up suspended marks were showing any signs of aggression. Collectively our group began to capitalize on this bite and we were able to finish off the day with a respectable amount of solid lake trout.
We again made our way back to Viking Lodge where we were treated to another amazing meal. Following the meal, we all met up and began to make a game plan for our third and final day of fishing. With all of us satisfied with our first two days of lake trout fishing we decided to venture out on a backcountry multi-species ice fishing adventure to target big pike and walleye.
Day Three: The Multi-Species Ice Fishing Adventure Begins
The next morning brought with it a stunning sled ride. Starting at the main lodge we traveled across first and Second Cranberry lake and entered into the true backcountry. This ride through the Canadian shield went by surprisingly fast as you look forward in awe of the beauty around every corner.
We made it to our lake, and right away it became apparent that Matt and Paul have this fishery dialed as well. We pulled up to our spot, which was essentially a feeding flat off of a point In six to nine feet of water. Right away Paul dropped down his live imaging and pointed us in the right direction to set up our shacks on this chilly morning.
Incredible Backcountry Ice Fishing
Immediately upon setting up, I was on the walleye, and the subsequent 30 minutes I could barely get my hook down before another mark would show up. Outside each of our tents, we had tip-up set in the varying depths of water across this shallow flat. And it wasn't long before the flags started to pop up.
We began landing pike after pike with many of them being 35 inches and up. As the sun rose above the trees, I was able to drop down the underwater camera. There was rarely a lengthy break in the action whether it be walleye, perch, or pike there was always something happening on the camera.
Almost anywhere in the province, the fishing that we were experiencing this morning would equate to one of the best days had on the water. But not here, this is just an average day on these pristine northern lakes, and that is what continues to draw people from all over year after year.
The afternoon continued on with much of the same quality of fishing. The tip-ups were relentless and the walleye bite was consistent right through. Unfortunately, this amazing day had to come to an end. We packed up and began our journey through the backcountry returning to the lodge. Throughout the day we kept a handful of eater walleyes and the Wiens family once again treated us to an awesome meal, this time fresh walleye "fish & chips".
Closing Out an Incredible Trip to Viking Lodge
I spent another comfortable night in my cabin before packing up and heading back south in the morning. Viking Lodge is truly one of my favorite places on the planet. The Wiens family works hard all day long to ensure your trip is everything you imagined and when it's time to leave it feels like you are saying goodbye to family.
However, that final goodbye as you pull out of Viking Lodge is always more of a see you later. As I look forward to when I am able to return and try my hand at this amazing fishery once again.
Written by: Keevin Erickson
To book an action-packed trip at Viking Lodge, Visit the Viking Lodge Website.
Check out our HuntFishMB ice fishing page for more ice fishing destinations in Manitoba.
*Protect Manitoba's water and resources. Stop aquatic invasive species. For more information on how to do your part visit the Sustainable Development AIS page.
[DFP_5]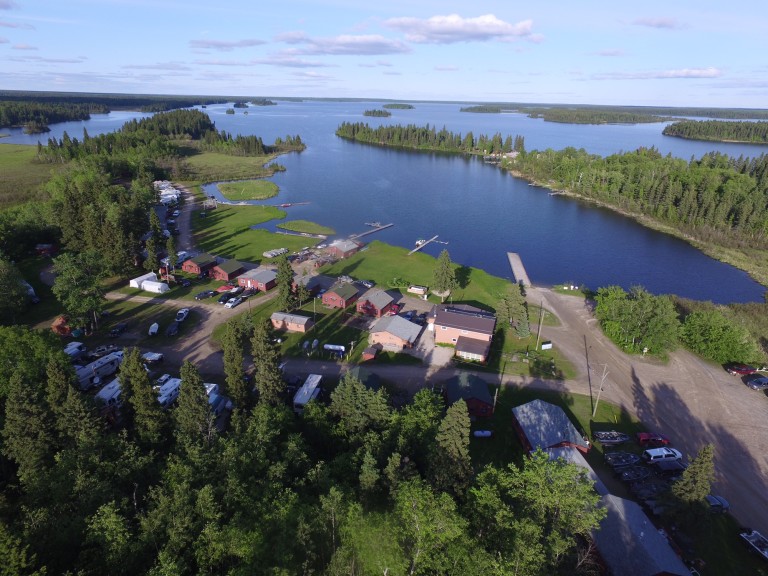 Learn More
Viking Lodge351 Public Road SE
CRANBERRY PORTAGE, MB R0B 0H0