Manitoba Bear Hunts: Quantity, Quality and Colour Phases - Canada in the Rough
The Duck Mountains of Manitoba may be one of Canada's best-kept secrets when it comes to amazing Manitoba bear hunts.
Our crew spent a week in early May with Todd Wohlgemuth of Baldy Mountain Outfitters, and we were blown away with the numbers of bears, the size of the bears, and the amount of colour phase bears coming into the baits each night.
Baldy Mountain Outfitters - Manitoba Bear Hunts
Located 5 hours northwest of Winnipeg, Duck Mountain Provincial Park is home to numerous remote lakes and endless woods, an ideal habitat for a thriving black bear population. The park is the highest elevation in the province, and is a stark difference from the vast prairies and farmer's fields to the south. Todd runs his camp from Blue Lakes Resort – a collection of cozy cabins on the shore of picturesque, East Blue Lake. With the lake still partially covered in ice, our fishing opportunities would be a little limited for the week, but that was alright; our main focus for the week would be black bears. Joining Paul for the week was Rob Dykeman of Excalibur Crossbows. After catching an early flight from Toronto and making the trek up to camp from the Winnipeg airport, the guys quickly sighted in their crossbows were still on, then geared up and headed to get hunting right away.
First Afternoons Hunt
Rob was the lucky one the first afternoon. He had 6 bears of various sizes come into his bait throughout the sit. His stand was setup near a swamp, affording him a terrific view of roughly 100 yards in almost every direction. The bears came streaming out of the swamp all evening, and put on a good show, but none of them were quite the big mature size that Todd had seen on camera and that had been harvested in the area over the years. The big boys were out there; it would just take some patience.
Late in the night, twenty minutes before last light, that patience paid off. Sixty yards away on the far side of the swamp, silently and with no warning; a massive chocolate bear stepped out of the timber. After a couple tense seconds, the bear moved back into the trees, moving towards the bait. Rob waited anxiously until last light, but the giant bear never reappeared. These giant bears are like ghosts, and everything needs to go right to get a chance at a shot on one of them. A small gust of wind can be all it takes to hang them up, never to be seen again.
The Action Continues
Rob hunted the same stand the next 2 nights, hoping to get another glimpse at the magnificent bear he dubbed "Count Chocula". Unfortunately he never returned, but the action was no less exciting. He had numerous bears into his bait and witnessed some truly unique and amazing encounters. He had bears fighting, boars chasing sows up trees, bears sniffing at the base of his stand, and all sorts of exciting encounters that made for some riveting nights in the stand. Meanwhile, Paul was having some exciting hunts himself. He had a steady flow of bears into his stand each night, also had some excited boars scrapping with each other, and even watched a sow climb 70 feet up a nearby tree to nibble on some fresh green buds. It was a death-defying feat, the bear hanging on tiny branches like a squirrel. He also got to lay eyes on a beautiful cinnamon bear – a little too young to harvest, but still an awesome sight.
Crunch Time
Getting later into the week and with only a couple days left of hunting, the guys were enjoying the evening entertainment each night but remembered that they still had bear tags to fill. They had passed tons of great bears waiting out for a true giant, knowing the great potential the area held. After another night with bear sightings in the double digits already, Paul's attention was drawn to a bear on his far right. A bear moved through the woods and back behind Paul's tree. Suddenly this decent sized bear froze in it's tracks. Was Paul busted? For minutes Paul held still, until a snapped twig alerted him to a big mature boar walking right underneath his tree! This is what had hung up the other bear, and was just what Paul had been waiting for. As the bear walked into the bait and turned broadside, the lighted nock blazed through his vitals with a perfect shot.
All the patience had finally paid off, but the surprises weren't done yet. As Paul walked up to his bear, he realized the bear had a large white chevron patch on his chest, the largest Paul had ever seen! The way it came in from below his tree, Paul had no idea.
Final Day
The next day, the final day of the hunt, Rob set out to sit at a new stand. With 6 different heavily used trails coming into the bait, he felt great about his chances. After passing on a decent bear around 7pm, a nice boar appeared out of the woods shortly after. With no time left to lose, Rob raised his bow and waited, until the perfect broadside shot presented itself. Another great bear down - the cherry on top of an amazing week of hunting.
Land of the Giants
As we packed up our gear for the long trip home the following morning, we reflected on a tremendous week with good friends and great hunting in the outdoors. We have to thank Todd and his crew for putting us in front of dozens of bears, keeping our bellies full and sending us home with some great stories and some excellent table fare, that we'll share with our families and friends. To find the true land of giants, you need to experience one of these amazing Manitoba bear hunts.
For more information on hunting Black Bears at Baldy Mountain Outfitters, visit the Baldy Mountain Outfitters website.
Check out our Big Game Hunting page for more information on Manitoba bear hunts.
Written By: Canada in the Rough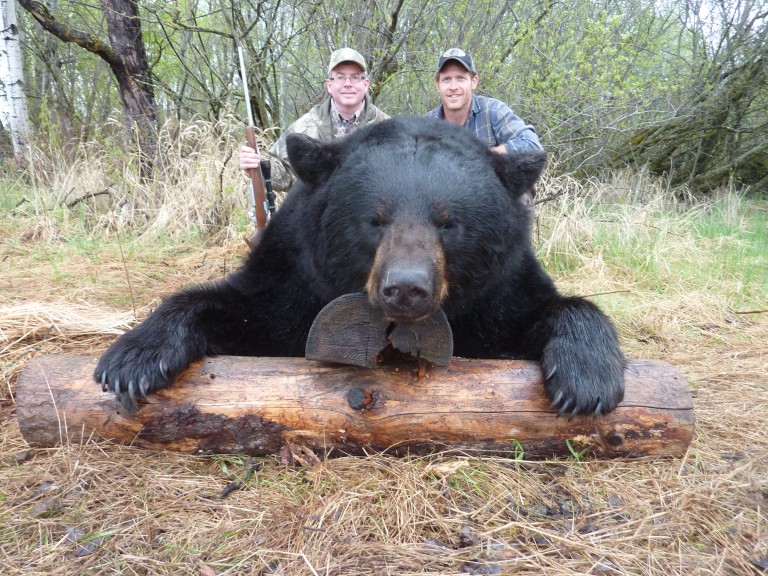 Learn More
Baldy Mountain Outfitters.
Duck Mountain Provincial Park, MB .