My Perfect Manitoba Black Bear Hunt - All Terrain Bear Hunts
Manitoba boasts incredible hunting opportunities. Among them, the black bear hunt easily stands out as one of the most popular experiences.
Hunters from near and far have their choice at what type of black bear they want to harvest. Whether you want a giant black bear or a sought-after color phase, Manitoba offers everything a black bear hunter would want. Operated by Manitoba outfitting veteran Cory Grant, All Terrain Bear Hunts offers a unique spring and fall black bear hunt in the road accessible areas of Northern Manitoba. I had the pleasure of spending a week with Cory in search of a black bear and this was my experience.
Not Your Everyday Black Bear Hunt
My experience at All Terrain Bear Hunts was nothing short of amazing. It began in the last few days of May and I had five days to hunt. Their remote boat-to camp is beautiful, and it really provides the feeling of solitude and disconnect from the rest of the world. As camp neared into view, I think my jaw dropped an inch with every second of our approach. The camp that we were greeted with is outstanding, never mind that it is tucked away on a secluded lake. With a quaint main lodge and an awesome private cabin, within seconds of arrival you feel like your comfort is priority.
After having a delicious supper, I sat down with Cory to discuss our week. Something that I really appreciate about Cory and my time at All Terrain was that Cory was completely in sync with his hunting sites and his bears. What I mean by that is Cory had trail cameras at all his hunting sites that he checked on a regular basis, he knew the best way to hunt each site, and most importantly, based on your expectations, he knows exactly which site to put you on. I was interested in shooting a mature black bear. I was also hunting with a rifle; a .243 to be exact. Based on that, Cory said he had a site that had a big bear hitting it and had a suitable ground blind for rifle hunting. He showed me several trail camera pictures of this big bear that looked to be around 400 pounds, and I trusted Cory on his site choice that he had picked for me.
The next day, we suited up and boated out to the site that Cory and I discussed the night before. We got comfortable in the stand late afternoon and prepared for the evening sit. It was a gorgeous stand with giant evergreens right next to the lake. At this point, I wish I could dive into all the wildlife experiences I had while sitting in the stand, but not more than two hours into the sit, I saw a giant black head walking straight toward me from about 20 yards away. It was him. Walking straight toward me and the site, I grabbed my rifle and slowly got into position. It happened fast. This big bore knew why he was there, and he was hungry. I only saw him for around 20 seconds before he got to the site and gave me a broadside shot. I took the shot immediately and knew I hit him good. Sure enough, within seconds it was over, and he was within sight. I was ecstatic! It was the biggest bear I've ever harvested and everything about the hunt was perfect: Huge bear, amazing weather, and a gorgeous sunset on the boat drive back to camp.
The next day, which was supposed to be my second day of hunting, we decided to cook up some of the back-strap meat from my bear for everyone at the lodge. Black bear meat is delicious and massively under-estimated. As long as you cook it right, it makes for unbelievable table-fare. That mixed with some freshly caught walleye made for an incredible lunch on the BBQ.
The Awesome Fishing
Aside from hunting, walleye fishing on the Grass River system is fantastic and a great downtime activity. In the mornings before a hunt, jumping in one of the boats at the dock and catching some walleye for lunch is a pretty easy way to enjoy the day. We fished every day we were there and caught walleye every single time. We put most of them back, but it definitely was a treat when we decided to keep a few for the BBQ.
The Lodge
I can't say enough about how comfortable and easy our stay was at All Terrain Bear Hunts. The private cabin is clean, comfortable and warm. Also, the hot shower is an amazing touch after a long day of hunting. The main lodge is full of photos and memories from past hunts and houses a perfect environment for relaxing, comradery and eating their delicious meals.
Overall, my Manitoba black bear hunt was as good as it gets. From the seamless drive to Thompson, Manitoba, the enjoyable drive through scenic back country to where Cory stages his boats and transports you into the lodge and then having the All Terrain crew take care of you from there, made it the easiest hunt I've ever been on. The hospitality was second to none; beautiful scenery, great company, a relaxing atmosphere and great hunting!
Top 5 Trip Tips
A black bear hunt in Northern Manitoba is an experience I believe all hunters should try, but you need the right gear. Here's a few tips from my experience:
1. ThermaCell: We had little to no bugs on our trip, but that doesn't mean you will. A ThermaCell is a must for any black bear hunt.
2. Head Lamp: Regardless of if you harvest a bear or not, you'll most likely leave the stand in the dark or get back to the lodge in the dark. A head lamp is an incredible tool for safety and ease in the dark.
3. Shot Placement: I harvest my bear which was around 400 pounds with a .243. I'm not going to argue that it's the ideal big bear gun, but it's definitely enough. Regardless of what caliber you choose to use, shot placement is always key.
4. GPS Communicator: I have a device called a Garmin In-Reach that enables me to send texts and emails through satellite which is a fantastic safety device to have when you're out in the wilderness out of cell phone coverage. This is a great safety tool in case of emergency.
5. Bring a Fishing Rod: Bring a fishing rod because jumping in one of the boats and getting into the walleye on the lake is a fantastic activity for mornings and early afternoons. Big fish and great action are both relaistic possibilities.
For more information on black bear hunting at All Terrain Bear Hunts, visit the All Terrain Bear Hunts website.
Checkout our Big Game page for more black bear hunting destinations in Manitoba.
Travel Manitoba staff was hosted by All Terrain Bear Hunts, who did not review or approve this story.
Written by: Marcel Laferriere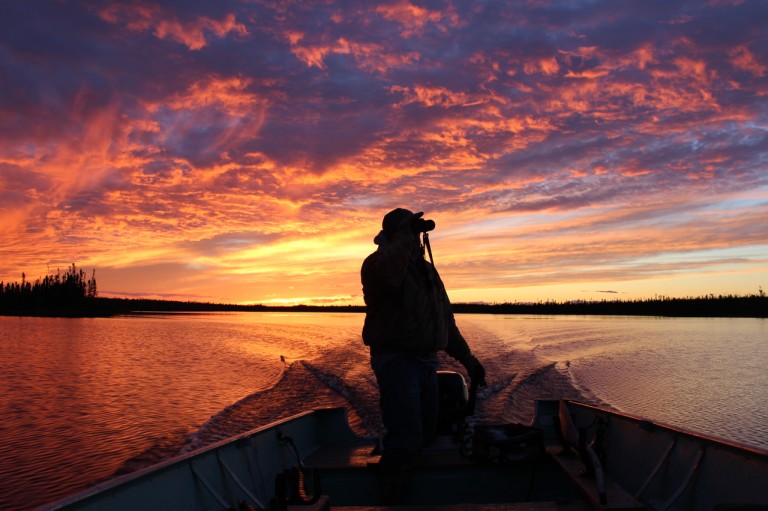 Learn More
All Terrain Bear Hunts12 Robinson Way
Thompson, MB R8N 0M1