Northern Manitoba Drive-to Fishing That's Hard to Beat - Viking Lodge
Fishing in Manitoba's Northern Region offers endless opportunities for anglers.
For some anglers, they travel north strictly for the big fish, others just want the numbers. Some come exclusively for the walleye, or the pike or the lake trout. But the truth is, what most anglers actually want, is all of that. Yet, in terms of Manitoba drive-to fishing destinations that can actually deliver all of that, there is few. However, last week I experienced one of those few when I headed up north to Cranberry Portage to fish at Viking lodge. While there, I got to experience one of the most dynamic fisheries I have ever been on. The Cranberry Lakes delivered all of the above and more.
Cranberry Portage
About 700 kilometres from Winnipeg, Cranberry Portage is located on the shores of First Cranberry Lake and Lake Athapapuskow. Originally an area used during the fur-trade as a portage from the Grass River system to Athapap. Now, rich in history and biodiversity, this area serves as a hotbed for anglers to follow the footsteps of the first peoples and experience the nearly unchanged landscape. The Cranberry chain of lakes, First, Second and Third Cranberry are highly regarded as big fish factories. Perhaps most well know for its giant walleye's and impressive average size, these lakes are also home to jumbo lake trout and northern pike. The Cranberry Lakes, In particular Third Cranberry, is the birthplace of the famous Grass River system that sweeps through Manitoba's north eventually leading into the Nelson River towards Hudson Bay.
Viking Lodge
Viking Lodge Is located on the west shores of First Cranberry Lake. This ultimate "fishing camp" style lodge offers anglers a choice from 16 cabins with all the comforts of home. As well as a campground with 21 full-serviced RV camping spots and a great tenting area. All their customers have the option to use their centralized washroom, shower and laundry facilities. As well as have access to a dock to leave their boat in the water overnight.
The fishing options from the lodge are seemingly endless. Walleye, pike and lake trout are all abundant throughout the Cranberry's. Each lake offers a whole different experience. The shallower First Cranberry Lake is a trophy walleye factory all summer long. The much deeper Second Cranberry Lake is stacked with lakers of both size and numbers. The well-known Simonhouse Narrows also offers that classic northern walleye experience with big numbers of walleye perfect sized for the frying pan, mixed in with some trophy's as well.
Let the Manitoba Drive-To Fishing Trip Begin!
Last week I made the journey from my home in the Interlake Region, all the way up to Cranberry Portage. This drive, although long, goes by fast as you traverse through the prairie fringe, boreal forest and finally the Canadian shield. Throughout the journey numerous exciting wildlife encounters are common and time flies as you wait to see what may be around each passing corner.
I arrived at the lodge in the afternoon where I was greeted by the owners Paul, Anita, Matthew and Sharnell Wiens. Immediately after spending some time with these folks you start to feel like family. After treating myself to an excellent home-cooked meal at the lodge's restaurant; while waiting for a thunderstorm to pass. It was finally time to hop on the boat with Paul and experience the Cranberry Lakes open-water for the first time.
On the Water
As you pull out of the bay that the lodge is located in you are immediately greeted with the true wilderness of a northern shield lake. A short ride out onto First Cranberry Lake and we made it to a nice gradual point off of an island. One of Paul's favorite spots. Before heading out, Paul and Matt were telling me about an average size of walleye of a borderline unbelievable 25 inches. However, Paul quickly made me a believer with the first hook up of the day on a beautiful 26-inch walleye.
The sheer size of each walleye we boated was hard for me to fathom. As we would land a chunky mid-20's inch fish, we would quickly unhook and get back into the water as soon as possible, without even a photo. Where on any normal outing for me, that would have likely been the "fish of the trip".
Lake Trout
As the afternoon turned to evening, the caliber of fish we were landing was insane. It was a trophy anglers dream. We were fishing just off the point of an island, with a quarter ounce chartreuse jig and minnow in the 25-28-foot-of-water range. In this spot, there is no telling what was going to bite our hooks next.
At one point, Paul was just about ready to make a small move across the point to attempt to find some fish on the sonar. He began reeling up quickly to bring his lure back to the boat. No sooner did his lure that was flying through the water column, get slammed. He knew right away that this fish that skyrocketed off the bottom, was going be a lake trout. After a brief but intense fight he managed to get this fish boat-side and net it. Vertically jigging for trophy walleye and hooking into lake trout in the process? It just doesn't get any better than that and is another amazing bonus of the Cranberry Lakes.
Day 1 Complete
As the day concluded, we made our way back to the lodge and hashed out a plan for the morning's fish. The northern sun kept the horizon lit well into the evening, as I sat on the deck of my cabin listening to the loon calls echoing across the bay. Before long, I made my way into my comfortable bed and called it a night, excited for the fishing that was to come.
Starting Day 2 in a BIG way
Paul and I met up at the dock first thing in the morning, and made our way back to one of his honey holes. Only minutes into fishing, my jig and minnow got slammed. As my line was peeling drag, we thought for sure I hooked into another lake trout. After a great battle with this fish, I finally got my first peak at what was on the other end of my line. To both of our surprise, it was a big pike. After getting the pike scooped up in the net, we were super excited for this bonus catch. Measuring in just shy of a Manitoba Master Angler, we grabbed a quick photo and sent it back into the water.
Manitoba Master Angler Walleye
Only a few drops after catching my big pike, Paul hooked into a walleye that he knew was going to be even bigger than the average. As I got my first glimpse of this fish and seen how long it was, I knew it was going to be close to a Master. After securing it in the net, Paul laid this beast down on the bump board, which revealed 29 inches and some change. Well over the Master Angler limit of 28" and yet another testament to how special this fishery is.
A Day of Fishing to Remember
We continued to fish for the better part of the day. Stopping only for another amazing meal (this time pizza and wings) at the lodge's restaurant. We picked off walleye consistently throughout and not only was the average size 25 inches, we hardly caught anything smaller than that! We ended the day with at least a half dozen walleye 27 inches or bigger, multiple lake trout, and that big pike to start the day.
Closing Out the Trip
To finish off the day we were treated to some of the most beautiful weather I have ever experienced on a lake. We reeled in our lines and made our way across the glass calm waters back to the lodge. That evening, once again, I took in the peacefulness and serenity of a Northern Manitoba evening from the deck of my cabin. As I listened to the sounds of the night, I couldn't help but reflect on the fact that this was definitely one of my best days of walleye fishing in my life.
I find it amazing that someone can come out to Viking Lodge for a few days and target giant walleye one day, then numbers the next. Then spend a day fishing the depths for lakers and finish off the trip targeting massive pike. That's not even including the countless other options of waterbodies and species in the surrounding areas.
This is genuinely a world class fishery and a top-notch lodge. Paul and Matthew are truly students of the lake and are super technical anglers. Their knowledge and expertise of this fishery totally sets them apart from many. This is a huge bonus when you come to Viking lodge, because not only can they point you in the right direction, but they also offer guided trips to ensure you make the most of your next Manitoba drive-to fishing vacation. The hospitality of the entire Wiens family doesn't go unnoticed either. When you are at Viking Lodge, they absolutely make you feel like family and I cannot wait to make a return trip soon!
Trip Tips
Rod, Reel & Line
On this trip my target species was walleye. Because of that I kept my gear pretty basic. 6'6" Medium action spinning rod spooled with ten-pound braid tied to a six-foot ten-pound fluorocarbon leader. The water clarity on the Cranberry Lakes is decent and using that fluoro leader was definitely beneficial to keep your line hidden.
With so many other species to target on this body of water I would definitely bring at least one heavier set-up if you planned on targeting big lakers or pike. For this a 7'6" + medium heavy rod with a high capacity reel spooled with 30lb+ braid and a flouro leader would be lots to handle the giants of the Cranberry's
Tackle
For tackle on the walleye's we were mostly using ¼ ounce chartreuse jigs paired with a minnow. Jigging Raps would have likely been a great option to use while sharpshooting these walleye as well.
If targeting the big lakers a super common tactic is jigging lures. This could be a 1-2-ounce bucktail or tube jig. A common colour for lakers is chartreuse and white. For big pike there are endless casting lures that are effective. From crank baits and jerkbaits to spoons and swimbaits, if you put them in front of them, they are likely to eat it up!
Technique
By far the most effective tactic we used for walleye was sharpshooting. To do this, we would start by finding some structure in the lake that is holding numbers of walleye while using the Helix. Once we found a good school of fish, we would drop down on them and start picking them off. Regardless of having electronics in the boat or not, the goal of this method can still be accomplished. Look for points coming off the shore and islands and find the structure. Be mobile around the structure until you start finding some fish. Once you find one there is likely to be more!
Always be cognizant of the waters depth and never target walleye in anything over 30 feet of water.
For lakers, many anglers at Viking lodge head into Second Cranberry Lake to target them in the depths. Commonly targeted on big feeding flats near deeper water. Anglers will often vertically jig near the bottom while exploring the entire water column throughout. However, for the first few months of the season anglers will crank into nice lake trout routinely while jigging in the shallows for walleye.
Big pike are most often targeted in the shallow bays. Fan casting your action baits across the deeper weed lines is always a sure-fire way to hook up with these Canadian Shield Northern Pike.
For more information on booking a trip at Viking Lodge, visit the Viking Lodge website.
Visit our Manitoba Drive-to Fishing page for more info on drive-to fishing opportunities in Manitoba
*Travel Manitoba staff was hosted by Viking Lodge, who did not review or approve this story.
*For More Information on Covid-19 social distancing measures, visit the Manitoba Government Covid-19 website.
*Protect Manitoba's water and resources. Stop aquatic invasive species. For more information on how to do your part, visit the Sustainable Development AIS page.
Written by: Keevin Erickson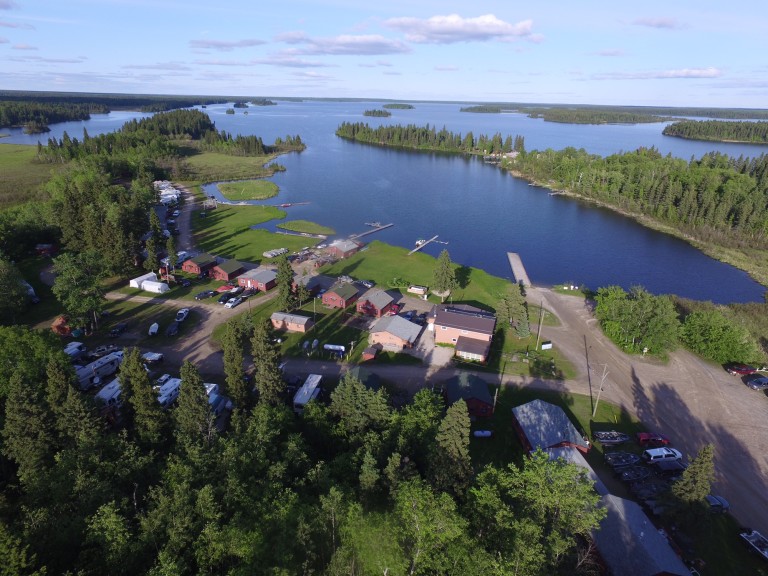 Learn More
Viking Lodge351 Public Road SE
CRANBERRY PORTAGE, MB R0B 0H0