Summertime Fly-in Walleyes at Shining Falls Lodge - Manitoba Hot Bite
There never really is a bad time to schedule a fly-in fishing trip to Manitoba.
While the summer months are notorious for slower walleye fishing in other locales, the fish inhabiting our secluded wilderness lakes in the Eastern Region are incredibly plentiful and always ready and willing to strike a lure. Shining Falls Lodge is one such fly-in destination where even in the middle of August, it doesn't take too much effort to boat hundreds of walleyes in a day.
Shining Falls Lodge
We went on a recent trip to Shining Falls Lodge to experience insane summertime fly-in walleye fishing for ourselves. Joining me on this trip was a crew of guys from Winnipeg, most of whom had never been on a fly-in fishing trip before. Needless to say they were beyond excited.
After an easy drive from the city to the town of Bissett, we quickly boarded the Blue Water Aviation twin otter plane and we were in the air. Twenty-five minutes into the flight we could spot the lodge beneath us along with endless great-looking water that we couldn't wait to explore.
Lodge owners Tobias and Ellen Becker were there waiting on the dock to greet us. Over the course of three days, we were very impressed as well as inspired by their hard work and dedication in helping each and every guest have the best possible time during their stay. They and all of their staff were hands-on and interactive during all aspects of our trip.
Shining Falls has four spacious and well-kept cabins and a main lodge all located on an island on Family Lake. Each cabin has a complete kitchen with the first three having a covered screened-in porch and the fourth with its own dock on the water. The cabins, which can sleep anywhere from 8-12 people, also has a wood stove and pile of wood for those cooler nights.
Walleye Fishing
After a quick orientation and breakfast at the main lodge, we eagerly made our way to the dock. We were pleased to see a newer fleet of 16-foot Lund boats with 20hp outboards and floors all equipped with Humminbird finders. Armed with a laminated map with all hazards and hotspots marked on them we set off with high expectations. The outgoing crew we chatted with had us hyped up talking about the solid walleye bite and bunch of 40-inch plus northern pike they had caught the last few days.
We decided to head straight to a neck down area called 'Nipple Rock' that was producing for the last group. Almost instantly we had a double header of Canadian Shield walleyes on the line. Drift jigging the area with frozen minnows in 7 to 12 feet of water was a winning tactic. Fan-casting plastics elicited more aggressive strikes as well as some medium sized northerns. The average size walleye we caught during the trip ranged from 15 to 21 inches. We also caught a lot of pike with the biggest one measuring at 40.5 inches.
The water clarity on this system which draws water from the northern reaches of Ontario is tea-stained. When using artificials, there is no need to shy away from brighter colours and flash. We experimented with jigging plastic tails, spoons, and worms which all got bit. Anything white proved to be the best for the walleyes while casting a classic five of diamonds or silver spoon caught their share of pike and walleye too. I was also able to get a pile of pike to hit my top-water Zara Spook lure whenever we came across some weedbeds.
American Plan
I highly recommend the American Plan they offer where all meals are prepared for you and served buffet style in the main lodge. From the moment we stepped off the plane to the time it was time to leave for home we were definitely never wont for food. Breakfast, shore lunch, and supper were all amazingly delicious and different each day. Among the highlights for the guys was the coffee delivery service each morning to the cabin, their famous walleye cheese dip appetizer, and a slab of prime rib cooked to perfection.
We enjoyed one of the most picturesque shore lunches I've ever experienced when we all met up at the top of Shining Falls. Tobi and Orion prepared a huge meal of fresh walleye and fries. A first for me was the scrumptious glazed donuts that they cooked up over the fire for dessert. To work off the giant meal, we took a short hike with our rods to the bottom of the falls. Casting out into the white water and back eddies, we proceeded to catch a bunch of fat walleyes some of which we could watch strike only feet from shore.
Book a Trip Today
The self-guided format was another hit with the guys. We were free to hit the water on our own schedule including evening bite sessions after supper each night. We explored different areas each day hunting down the lake's massive schools of walleyes. There is something to be said about hitting new water and finding fish on your own. That being said the staff always have their pulse on the bite if you need a nudge in the right direction.
If you are looking for an incredible fly-in fishing trip with the crew or the family, give Shining Falls Lodge a call. A beautiful sand beach, communal fire pit, horseshoe game, marked hiking trails, and one of the cleanest fish cleaning houses I've ever come across are just some of the great amenities at this fantastic family-run operation.
HuntFishMB - Eric Labaupa
For more information about booking a trip visit Shining Falls Lodge
For more information about Fly-in fishing in Manitoba visit our Fly-in Fishing page.
*Protect Manitoba's water and resources. Stop aquatic invasive species. For more information on how to do your part visit the Sustainable Development AIS page.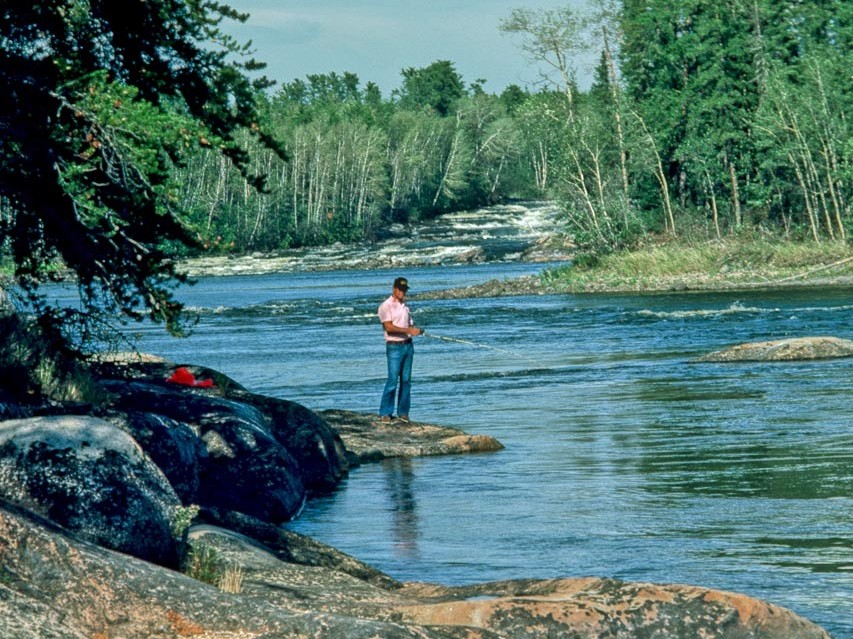 Learn More
Shining Falls Lodge1 Read Ave
Whitemouth, MB R0E 2G0