Supersized Multispecies Fall Fishing at Q-Lake Lodge
Multispecies fall fishing in Manitoba can be one of the most exciting and magical times to be on the water. Especially when you're at Q-Lake Lodge chasing down giant smallies and walleyes.
As the leaves begin to turn and the temperature begins to drop - The fishing starts to heat up! Last fall, my friend Ryan and I did exactly that! We traveled to Q-Lake Lodge Located on Quesnel Lake, just under 3 hours from Winnipeg in The Nopiming Provincial Park. This scenic "End of the road" destination is a hidden gem located in Manitoba's Eastern Region, Canadian Shield wilderness.
Both Ryan and I have fished at Q-Lake Lodge in the summer, and we both have experienced how incredible the smallmouth bass and walleye fishing is. We left our past trips at Q-Lake wondering just how insane the fishing would be on these lakes come fall when both the smallies and the walleye are on the reefs and feeding heavy. Well, on this trip, we finally found out in a big way!
Multispecies Fall Fishing at Q-Lake Lodge - The Bite We Have Been Waiting For
For some context, the last time I was at Q-Lake Lodge was with my buddies Jay Siemens and Tyler Anderson. Before I even wet a line, we all saw a big bass suspended just off the boat as we were rigging the rods. I quickly grabbed my craw set up and pitched it just off the back of the boat right in front of the bass's face. With no hesitation, he slammed it! This beast was over 4 and a half pounds and to date, my biggest bass ever… on my first ever cast at Q-Lake Lodge. Fast forward to now, early September and mid-50-degree water temps, We had a good feeling the walleyes and smallies would now be on the reefs, and we were fully prepared to experience what turned out to be some of the best fishing we have had anywhere.
Manitoba Multispecies Fall Fishing on Main Lake Reefs
This time of year, the fish are often not very spread out, we figured that once we found some fish, we would probably find a lot of fish. So, before we even started, we made sure to get some quality screen time with our sonar. We began at a big main-lake reef that tops off around 7 feet and then drops to deep water all around it. The morning started off with a light southwest wind and we didn't really find any congregated fish on any side or depth of the reef. We were a bit puzzled but we began to fish anyway. We caught a handful of small bass in various depths but nothing to grab the net over.
It wasn't until we dropped off to a slightly deeper edge off the reef in about 23 feet of water when I caught our first big bass of the day. We were just letting the wind drift us over the reef and I pitched my tube jig just off the side of the boat and left my bail open. Once I knew it was on the bottom, I gave it a couple of small hops, and then boom, fish on! Getting a big bass in the boat felt great because it gave us a sense of what we needed to replicate.
Using the Wind to Find the Fish
Just after I caught that bass, we realized that the wind had slightly shifted. It was now started to blow from the Northwest and it became noticeably stronger. Like a light switch, fish began to stack up on the deep, windy side of the reef where previously, there were no marks. From 20-28 feet of water, just off the reef, fish began to stack up on the sonar. As soon as we started marking them, we started catching them.
Sharpshooting Fall Walleyes and Bass
How we were catching them was simple. We used the technique commonly referred to as sharpshooting. The basics of sharpshooting is vertically fishing while using your sonar. Essentially, you don't drop your hook down until you are marking fish, once you do, you drop down directly into their vicinity and hopefully get a bite!
This is exactly what we did, Ryan was using a ned rig in a craw colour and I was using a handful of alternative options from tubes to hair jigs. Both of us were using medium action spinning rods with 10-pound braid and a 10-pound fluorocarbon leader. Rather quickly, we learned the ned rig was the deal. Ryan was slamming fish after fish, catching both smallmouth and walleyes. I could only take it for so long before I too had to switch over to a ned-rig and join the fun... and boy was it ever.
Manitoba Master Angler Bass
Once I got on the ned rig program, the wind continued to pick up and the fishing only got better and better. The sharpshooting was working, but the bite was so good that it got to the point that we didn't even look for fish on the sonar, we just positioned the boat upwind on the reef and drifted over it because the marks were just everywhere. At this point, we had caught several Master Angler smallmouth and the bite wasn't showing any sign of slowing down. The battle that these smallies put up was unbelievable and catching them in 20 feet of water really showed off their true strength.
After a while of non-stop action, Ryan hooked into a fish that felt heavier. It didn't budge on the hookset and just kept dogging down in 20 feet of water. After the adrenaline-packed fight, we finally laid eyes on what was surely the biggest bass of the day. As the fight got closer, tensions rose as we gradually witnessed just how big it really was. Finally, I scooped it up in the net and the celebrations began. It measured 19.75 inches, well over the Master Angler requirement. We took a quick photo and got it right back in the water to be caught again another day.
Manitoba Master Angler Walleye
The action didn't stop there! As we continued to catch fish at ease, more and more walleyes were entering the mix. Suddenly, I set the hook on once again, what felt like a snag, but it wasn't. The fight, however, was different and the head shakes were bigger and slower. We knew what that meant. This big golden walleye put up a heroic fight before Ryan scooped it into the net. After the cheers, we got a quick measurement to learn that it was my personal best walleye out of Canadian Shield lake at 28.5 inches. We let the big girl go and got our lines right back in the water. We continued to boat 2 more Master Angler walleye as well as several Master Angler smallmouth.
Q-Lake Lodge: A Bucket-List Sall Fishery Under Three-Hours From Winnipeg
Before this trip, I had fished for both walleye and smallmouth in the fall, but never at the same time and with completely different techniques. Having both of them in numbers and size on the same spot is something I've never experienced and can't even explain how fun it really is.
Having a good time on the water with a buddy, constantly setting the hook, and never knowing if the next hook-set is going to be your biggest bass or biggest walleye is an exhilarating experience. Topped off with a fishery like this nearly to yourself, and the extraordinary Canadian Shield views no matter where you turn your head. This is truly a special place to fish any time of the year. Especially in the fall when they stack up and feed hard. Q-Lake Lodge is a place that you can really take advantage of a very unique Manitoba bite, and have a trip of a lifetime.
As a drive-to lodge that's under 3 hours from Winnipeg, Q-Lake Lodge is truly a sleeping gem in Manitoba and I can't recommend it enough if you want out of this world smallmouth bass and walleye fishing. Ryan and I wondered for years what the multispecies fall fishing would be like here... and we sure got our answer: It's bonkers.
For more information on Q-Lake Lodge, Visit the Q-Lake Lodge Website.
For more Drive-to Multispecies Fall Fishing experiences in Manitoba, Visit Our Drive-to Fishing Page
*For More Information on Covid-19 social distancing measures, visit the Manitoba Government Covid-19 website.
*Protect Manitoba's water and resources. Stop aquatic invasive species. For more information on how to do your part, visit the Agriculture and Resource Development AIS page.
Written by: Marcel Laferriere
[DFP_5]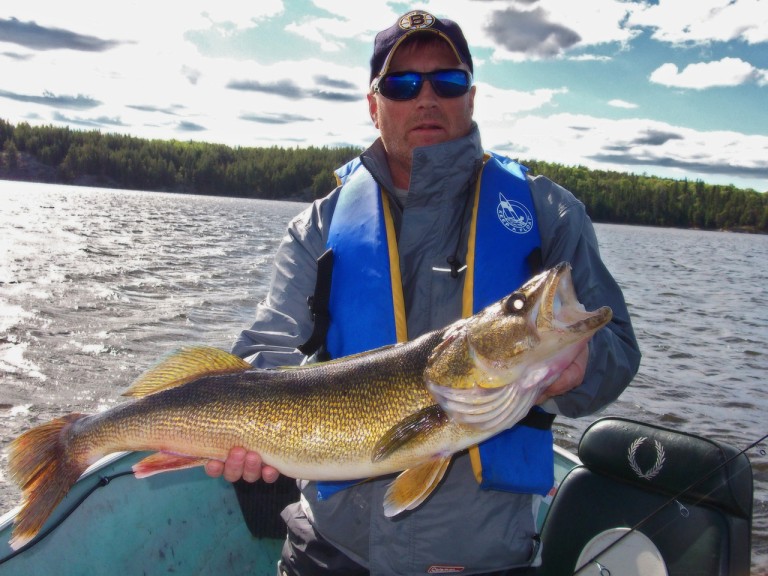 Learn More
Q Lake LodgeCaribou Landing
Nopiming Provincial Park, MB R0G 2V0