Top-Notch Lake Winnipeg Walleye Fishing - Briun Outfitting
Manitoba is home to a vast array of lakes. From southern prairie potholes to Northern Canadian shield lakes. Manitoba just about has it all.
At the heart of Manitoba, lays one of North America's largest freshwater lakes; Lake Winnipeg. Covering almost 10,000 square miles. This lake is no joke, and neither are the Lake Winnipeg walleye that call it home. There are a variety of outfitters that operate on Lake Winnipeg in the winter. One of the best is Bruin Outfitting. From a team of professional guides to years of experience on this vast body of water; Bruin Outfitting has been making ice anglers' Greenback Walleye dreams come true, time and time again.
We had the pleasure of spending a couple of days on the ice with Matt Cornell, owner and operator of Bruin Outfitting. Our anticipation was high and the experience was one we truly won't forget.
Incredible Lake Winnipeg Walleye Fishing with Bruin Outfitting
We might as well just get one thing out of the way early; Matt is dialed. As soon as you arrive at the first spot on the lake, he opens his truck and starts handing out rods, buckets, flashers, and whatever you need in a quick and orderly fashion. Matt's program on Lake Winnipeg is simple and effective. We've all heard the phrase run and gun, but Matt takes it to a whole other level. And his hard work pays off. Upon arrival at each spot, Matt and his guides begin to drill a quick few holes to ensure his guest can immediately start fishing. But the work doesn't stop there. They begin to drill a grid of holes in all directions. As all the holes are being drilled he makes each guest aware that if they aren't catching any fish in their hole within the first 10-15 minutes keep on moving to another hole within the grid.
Searching out Giant Lake Winnipeg Greenback Walleyes
On a trip we took with Bruin Outfitting Matt stuck to the program to a tee. We immediately began catching fish but certainly weren't slamming them. So we trusted the process and continued hole hopping.
Catching eaters is great and provides a lot of entertainment. However, Matt is a big fish machine and big fish is why we were there. Relentlessly, Matt continued to drill holes and we continued to hole hop. The whole idea behind this tactic is to spread out, make lots of small moves, and try to chase down schools of walleye. Then once you find them, you try your best to stay on them for the rest of the day. If fishing begins to slow down you start the process over again.
Professional Guides on Lake Winnipeg
One of Matt's biggest assets is a solid crew of professional guides that help him on the ice. Not only does this allow for efficient hole hopping throughout the day. But, these guides also know Lake Winnipeg Walleye as well as anyone. There is a lot of 1 on 1 interaction between guides and guests which makes a huge impact on your day. They will instruct you from reading the sonar to how to trigger a bite when a fish is on you. The guides truly want you to catch fish, just as much as you do and it shows.
Top Notch Lake Winnipeg Ice Fishing
On our trip, we caught fish all day. We stuck to the program and stayed on the schools. Although we were able to hook into the odd walleye in the mid-20-inch range. We hadn't quite reached that trophy potential that Lake Winnipeg walleye are known for. We knew we were doing all the right things and it was just a matter of time till we got the bite we were looking for.
Into the afternoon, we got to a spot where it really felt like we were on top of the school and it was time to hunker down and maximize this opportunity. The fishing was relentless, with eater-sized fish flying out of the holes in all directions, and It wasn't long until one of us hooked into a big fish.
When the hook was set we immediately knew this was a big fish. We were in fairly shallow water so the fight was quick and frantic but extremely fun. Once the massive green head came up the hole we knew right away it was a trophy. We snapped a quick photo of this beautiful Master Angler walleye and sent her back with a healthy release. as the day went on this spot continued to produce and we went on to catch several other big fish. Even before we got onto the bigger bites, this trip was everything I had hoped for. it was a beautiful day we were able to catch fish the entire time. But those Trophy Greenback walleyes at the end sure was the icing on the cake!
Booking a Trip with Bruin Outfitting
Bruin Outfitting offers all-inclusive style packages at a very affordable rate. In the morning, Matt will come to pick you up from the accommodation you are staying at. Matt will then transport you onto the lake right to the fishing Location. This is where the benefits of fishing with Bruin Outfitting really shine through.
All the equipment you could ever need for the day of fishing is provided for you! For those colder days, Matt has Clam X2 thermal fish shacks equipped with propane heaters. On top of that, each guest will receive Vexilar Ice Flashers to use for the day; As well as all the rods, reels, bait and tackle you could ever imagine needing. Before you even have a chance to step out of the truck Bruin Outfitting will have it all ready and waiting for you with the holes already drilled.
Greenback walleyes and Deep Water Lakers?!
Another really great feature when fishing with Bruin Outfitting is that Matt is far from a one-trick pony. He takes multi-species outfitting to the next level! Monster Lake Winnipeg Greenback walleye are just one tool in his tool belt. Matt offers guided ice fishing excursions into Manitoba's Eastern Region as well. The Eastern Region is home to pretty well every species you can imagine. Giant tip-up northern pike, Slab crappies, deep water lakers, football perch and so much more.
Not only can you check Lake Winnipeg off your bucket list with Bruin Outfitting, but you can also tag on a few extra days and target Canadian Shield panfish and deep water Lakers to boot.
5 Lake Winnipeg Walleye Fishing Trip Tips with Bruin Outfitting
While speaking with Matt, we asked him to give us his Top 5 Trip Tips for someone fishing for walleyes on Lake Winnipeg and this is what he said.
1. Clear your Line:
Most of the time while fishing with Bruin Outfitting guests will fish outside (Weather permitting) for ease of hole hopping. Sometimes, that means ice will build on your line to a point you cannot reel the line through your eyelets. When you finally get that big fish opportunity you have been dreaming of. The last thing you want is something in your control like ice build-up on your line - to be the reason you don't land the fish of a lifetime. Take a couple of seconds every few minutes to access the ice on your line and quickly clear it off if necessary.
2. Rod Selection:
Depending on the lure and depth of water, rod selection can make a big difference in your likelihood of landing a fish. Matt explains that he likes a softer rod in shallow water. The reason being is that if you are fishing shallow enough water with a stiffer rod, slamming that fish with a big hook set can send that fish quickly to the top of the ice, and without any time to react you could knock your hook off on the ice. A softer tip still allows you to get a good hook set in but doesn't have the same backbone that could skyrocket the fish towards the ice, This gives you a better opportunity to take control of the fight and finesse the fish up the hole when the opportunity arises.
3. Be Mobile:
Lake Winnipeg is a huge expanse of water with a relatively flat and featureless bottom. With no obvious features to naturally attract and school up fish, you have to find them. It is important to be mobile and make a lot of moves if you aren't catching fish. Once you start to catch a few, make smaller moves until you are right on top of them. This can be a key tactic in turning around a slow fishing day and making it one to remember.
4. Fish the Column:
A lot of the fish you catch are close to the bottom. However, it is incredible how active fish can be when you encounter them on the sonar higher in the column. If you mark a fish mid-column on Lake Winnipeg, there's a good chance you catch it instantly. Real up to the mark, and trigger that bite!
5. When to Move:
Matt gave some incredible insight on when you are on fish but still might want to move. He furthered by saying when you get on a spot and the fishing is fast-paced and the action is high, make the most of it. But if that action begins to slow down, even if you are still catching a few. That can be a sign that it is time to make a small move. Begin drilling holes in all directions of the spot you are on and try to get back on that hot action. If you end up staying on a spot too long, and the fishing completely slows down. The school may be completely moved off and can prove difficult to get back on.
To learn more about Lake Winnipeg Walleye fishing with Bruin Outfitting, visit the Bruin Outfitting website.
Check out our HuntFishMB ice fishing page for more content on Ice fishing all across the province!
*Protect Manitoba's water and resources. Stop aquatic invasive species. For more information on how to do your part visit the Sustainable Development AIS page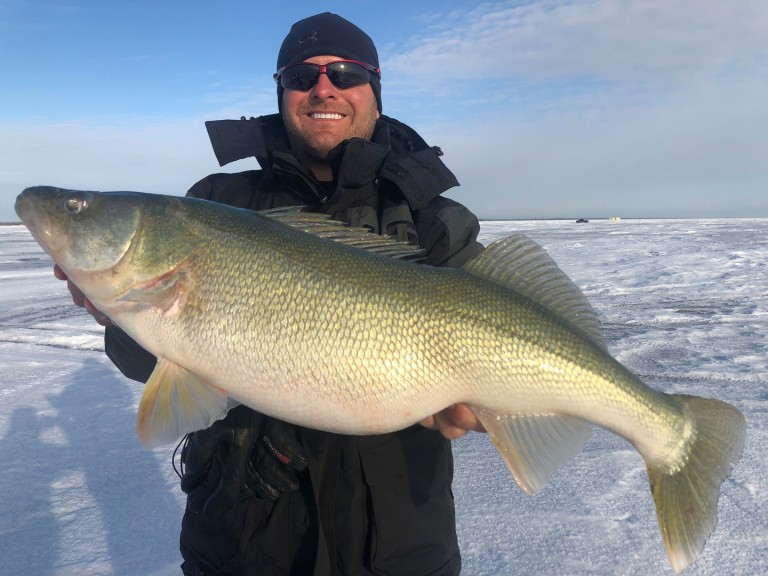 Learn More
Bruin Outfitting and Guide Service38 Prairieside Cres
Garson, MB R0E 0R0