Top Outfitters for Ice Fishing On Lake Winnipeg
Dreaming of ice fishing on Lake Winnipeg for the legendary Greenback Walleye? This winter, make that dream a reality with these top-notch outfitters based on this world-class fishery.
Ice fishing on Lake Winnipeg brings many challenges - All of which are alleviated by going with an outfitter that knows this massive body of water like the back of their hand. From how to safely navigate the frozen oasis to exactly where the pods of big fish have been hanging out. Booking a trip with an outfitter takes out all the guesswork, and ensures you spend your time on the Ice fighting fish and not searching for them.
Below is a list of three of the top outfitters for ice fishing on Lake Winnipeg. All of which offer unique products that are sure to appease any ice angler's needs. From semi DIY trips, Snobear & gear rentals, to all-Inclusive style packages where you just have to show up and head out fishing.
1. Blackwater Cats
When it comes to Ice fishing on Lake Winnipeg for giant greenback walleyes. You are talking about an experience that Donovan Pearase, owner, and operator of Blackwater Cats has spent over a decade perfecting. From experienced guides scattered across this frozen oasis in search of the next big bite – To decades of winters worth of knowledge and wisdom on this world-renowned body of water. Donovan has built Blackwater Cats into one of the most successful outfitting businesses on Lake Winnipeg.
When booking a trip on Lake Winnipeg with Blackwater cats. You can expect a seamless, well-organized excursion. Although Lake Winnipeg can be highly unpredictable, Donovan and his team have seen it all and are prepared for it all.
Your day with Blackwater Cats will start by meeting Donovan at a designated access point. From there, Donovan and his guides will lead the way onto the lake to the first spot of the morning. Generally, this first spot of the morning is where Donovan left off the day before. This generally ensures you'll be in a fishy spot to start the morning. That alone is one of the biggest benefits of going on a trip with Donovan, with a team of full-time guides and no days off – They always have an incredibly good idea of where the pods of fish are located across this largely featureless body of water.
Preparing for your Trip
Blackwater Cats will generally look to traverse Lake Winnipeg in 4×4 Truck convoys as long as the lake allows for it. The convoy will meet on the shoreline and all travel together. Traversing the lake in a convoy ensures everyone makes it to the spot safely. If someone happens to get hung up, the group is there to help you out.
However, Manitoba's harsh winters don't always allow for truck travel to be possible. Deep snow, rough ice, and pressure ridges can all pose issues to ease of travel. In these conditions, Donovan will let you know what mode of transportation will be required for your trip beforehand so you can be prepared.
Don't have a 4×4 truck or a tracked vehicle? Don't sweat it, Blackwater Cats offers several different packages to accommodate anyone's needs. From hitching a ride in their awesome tracked Suburban truck across the lake, jumping in one of the guide's trucks, or even the opportunity to rent a snowmobile for the day.
To learn more about Ice Fishing on Lake Winnipeg with Blackwater Cats check out their website blackwatercats.com.
2. Icebound Excursions
Looking for an incredibly unique ice fishing experience chasing Greenbacks on Lake Winnipeg?
There are many different ways to get on the ice and go ice fishing. But perhaps the most efficient, comfortable, and portable method is a Snobear. Unfortunately, few people have the luxury to own one of these fantastic machines for themselves. Fortunately, Mat Hobson of Icebound Excursions created a solution to this problem. Offering affordable daily rentals of his fleet of Snobears – Providing an epic Lake Winnipeg ice fishing experience.
Mat has become known for his high-tech approach to searching down and catching giant greenback walleyes. With the use of a number of modern sonar technologies, Mat has been able to put his guest on Master Angler-sized greenback walleyes on a regular basis. When it comes to renting his Snobears he offers 2 different options. The first option is to rent one of Mat's Snobears with up to 4 people. The second option, that we recommend, is to rent a Snobear with up to 4 people, with Mat as a guide. This ensures you the best chance of getting on a big bite and maximizing your time on the ice!
To learn more about Ice fishing on Lake Winnipeg with Icebound Excursions, visit their website, snobearrental.ca
3. Bruin Outfitting
Bruin Outfitting, owned and operated by Matt Cornell is a multi-species year-round fishing outfitter based out of Southern Manitoba. One of Matt's staple packages involves outfitting on the Legendary Lake Winnipeg. Covering almost 10,000 square miles; Lake Winnipeg is no joke, and the massive greenback walleyes that call it home aren't either. Bruin Outfitting has become known as one of the best outfitters on this lake. From a team of professional guides to years of experience on this vast body of water; Bruin Outfitting has been making ice anglers' Greenback Walleye dreams come true, time and time again.
One of Matt's biggest assets is a solid crew of elite guides. There is a lot of 1 on 1 interaction between guides and guests which makes a huge impact on your day. They will instruct you from reading the sonar to how to trigger a bite when a fish is on you. The guides truly want you to catch fish, just as much as you do and it shows.
Packages
Bruin Outfitting offers all-inclusive style packages at a very affordable rate. In the morning, Matt will come to pick you up from the accommodation you are staying at. Matt will then transport you onto the lake right to the fishing Location. This is where the benefits of fishing with Bruin Outfitting really shine through. All the equipment you could ever need for the day of fishing is provided for you! For those colder days, Matt has Clam X2 thermal fish shacks equipped with propane heaters. On top of that, each guest will receive Vexilar Ice Flashers to use for the day; As well as all the rods, reels, bait and tackle you could ever imagine needing. Before you even have a chance to step out of the truck Bruin Outfitting will have it all ready and waiting for you with the holes already drilled.
Another really great feature when fishing with Bruin Outfitting is that Matt is far from a one-trick pony. He takes multi-species outfitting to the next level! Monster Lake Winnipeg Greenback walleye are just one tool in his tool belt. Matt offers guided ice fishing excursions into Manitoba's Eastern Region as well. The Eastern Region is home to pretty well every species you can imagine. Giant tip-up northern pike, Slab crappies, deep water lakers, football perch, and much more.
Not only can you check Lake Winnipeg off your bucket list with Bruin Outfitting, but you can also tag on a few extra days and target Canadian Shield panfish and deep water Lakers to boot.
To learn more about ice fishing on Lake Winnipeg and beyond with Bruin Outfitting visit their website www.bruinoutfitting.com
Check out our HuntFishMB ice fishing page to learn more about these incredible outfitters and to learn more about Ice fishing in Manitoba!
*Protect Manitoba's water and resources. Stop aquatic invasive species. For more information on how to do your part visit the Sustainable Development AIS page
Learn More
Blackwater Cats OutfitterBox 69 Group 7, RR#1
East Selkirk, MB R0E 0M0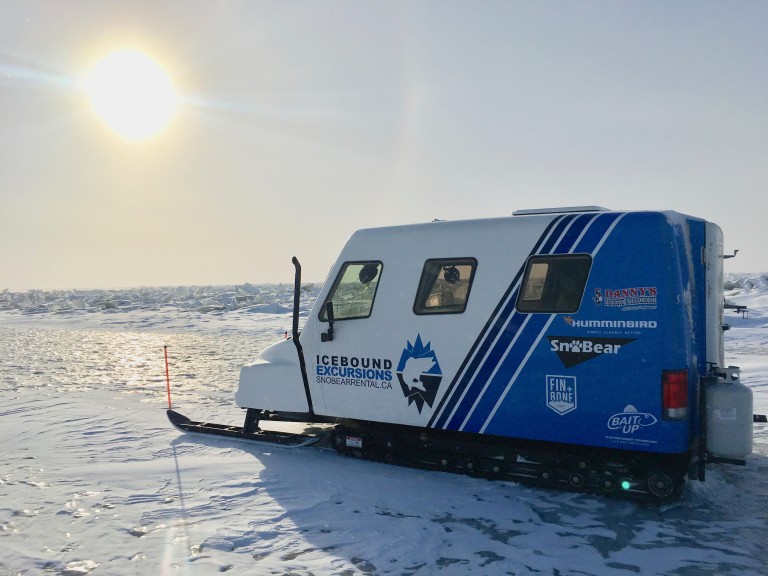 Learn More
Icebound Excursions1195 Pembina Hwy
Winnipeg, MB R3T 2A5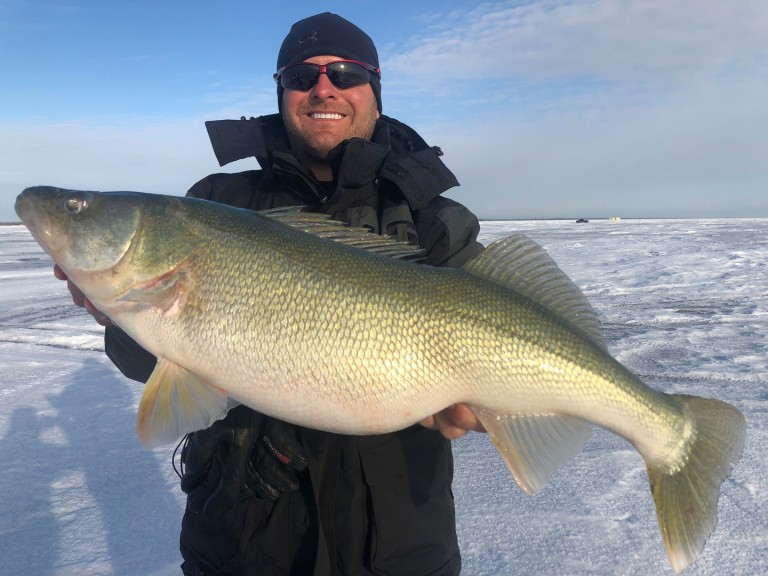 Learn More
Bruin Outfitting and Guide Service38 Prairieside Cres
Garson, MB R0E 0R0