Ultimate Luxury Fly-in Fishing at Kississing Lake Lodge - Manitoba Hot Bite
Some of the most prestigious fly-in fishing destinations in all of Canada are right here in Manitoba.
If you are looking to plan the luxury fishing trip of a lifetime, look no further than Kississing Lake Lodge. Located in the pristine Northern Region of the province, this lake has world-class trophy angling for walleye, lake trout, and northern pike. Their well maintained and organized camp features luxury accommodations, a gorgeous main lodge, and top-notch service to ensure your stay is truly memorable.
We went on a recent four-day trip to Kississing Lake Lodge looking to experience the five-star treatment for ourselves and had high hopes of catching new personal best trophy fish. To state it simply, we were not disappointed by one bit. Joining me on this adventure was HuntFishMB contributor Courtlyn Suszko and HuntFishMB hunting expert Keevin Erickson.
Flying in
Our adventure started with a two-hour flight out of Winnipeg to the town of Flin Flon, MB. From there, Wings over Kississing staff picked us up and drove us to our patiently waiting float planes. After a short and scenic twenty-minute flight, we were touching down in the bay just out from the lodge. Their four-day itineraries are set for groups to arrive early evening the first night. After four full days of action-packed fishing, anglers fly-out the evening of the last day.
Amazing food
The food and service were nothing short of exemplary. Before we had even dropped a line in the water, we had already sat through an amazing supper and a hearty breakfast made to order. From the classic Canadian shore lunches to the scrumptious appetizers laid out in the lounge after a day on the water to the delicious 3-course supper menus, the cuisine was worth the price of admission alone.
Awesome guides
The first morning at the marina was full of excitement and anticipation. Numerous guides, dock hands, and anxious guests were buzzing about getting gear loaded onto their boats. We were introduced to our assigned guides Pat and Marcus. Veteran guide Pat took Courtlyn and I in the one boat while apprenticing guide Marcus took Keevin out on his. We were truly impressed with their attention to detail and effort to make our days on the water enjoyable and successful. By the end of the trip, our incredible hosts became our good friends.
The walleyes are always biting up here
Being mid-summer, our optimism was tempered somewhat by the typical slowdown in action that hot weather in July is notorious for. Those assumptions were quickly smashed after we arrived at the first spot targeting walleye. Shortly after dropping her jig and minnow combo down, Courtlyn excitedly set the hook on a chunky walleye. This was followed by dozens more with the average size around the 19 to 22-inch mark. We were able to hook into several fat 24-inchers with Courtlyn catching the longest one at 26-inches.
Every shore lunch was different
Kississing Lake is a massive body of water with countless bays, islands, and channels to explore. We fished a different area each day targeting both walleye and northern pike, with a few sessions dedicated to searching for lake trout. Pat shared that the lake was dotted with a couple dozen shore lunch locations. We took mid-day breaks at a different picturesque spot each day. At one spot we were even paid a visit by an inquisitive juvenile black bear which was one of the highlights of the entire trip.
Personal best northern pike
On day 2 we were extra focussed on hooking into some larger northern pike. Throughout the blistering heat of the day we were able to catch numerous mid-thirties fish. They were smashing everything from large spoons to topwater plugs to in-line spinners. Near the end of the day we could see a storm approaching us out of the southwest. Experienced esox anglers know well that there can often be a prime feeding window ahead of these fronts. We fished an area deep in the back of a pencil reed bay where I shortly lost my X-Rap to something huge. Drifting across a gap in the weeds Courtlyn suddenly set the hook on a fish that responded by peeling half of her line off the reel. After a valiant fight, Pat scooped up a massive 44-inch northern which surpassed Courtlyn's previous personal best by a mile.
Personal best lake trout
Not to be outdone, Keevin caught a new personal best himself on day 3. This time we were dropping heavy jigs into deep water for a shot at the giant lake trout that Kississing Lake is famous for. Only minutes after arriving at a spot that had been producing well for Pat this year, Keevin's rod buckled in half. All he could do was hang on as the fish made diving run after run away from the boat. The look on Keevin's face once he got a good look at it in the clear water told us it was a good fish. Measuring 36-inches, the Master Angler qualifying fish beat his previous personal best by a mile as well.
Fishing trip of a lifetime
We enjoyed spending time in the lounge each evening where we chatted with other guests at the camp comparing fish stories of ones caught and ones that got away. We brought all of our own fishing gear but most guests we found out took advantage of the rods and tackle that the lodge has available for rent. If you are in need of anything the camp office also has a small store stocked with various tackle, snacks, and supplies.
For a luxury getaway and trophy fishing experience that you won't soon forget, give this top Manitoba fly-in fishing destination a call. Find out more information about booking a trip to Kississing Lake Lodge by visiting their website at kississinglodge.com
HuntFishMB – Eric Labaupa
For more information about fishing for these species in Manitoba visit our What You'll Catch page.
*Protect Manitoba's water and resources. Stop aquatic invasive species. For more information on how to do your part visit the Sustainable Development AIS page.
*Travel Manitoba staff was hosted by Kississing Lake Lodge, who did not review or approve this story.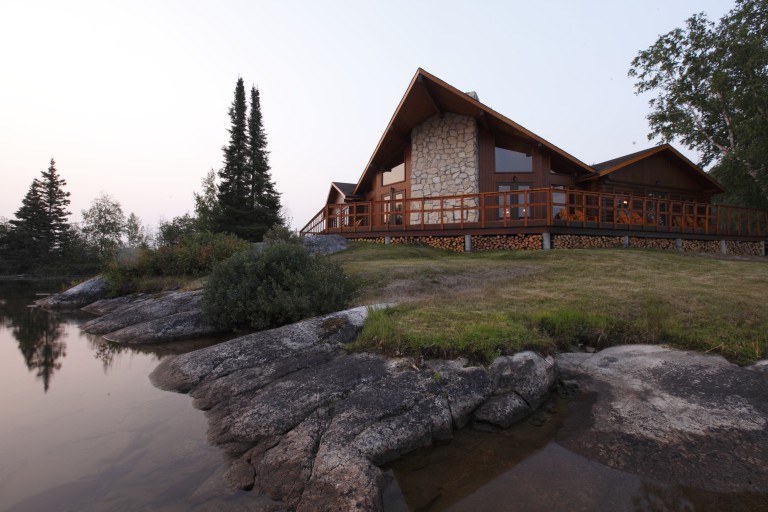 Learn More
Kississing Lodge.
Kississing Lake, MB .