Variety is the Spice of…the Perfect Fishing Vacation
The Winnipeg River is one of the most diverse fisheries we have in Manitoba, with Master Angler caliber fish in several different species.
But the fishing options on the mighty Winnipeg are only the tip of the iceberg. When it comes to providing exceptional choices for a no-hassle fishing vacation, this iconic river system is home to a staple destination that continues to set the bar for a variety of experiences, and options for every budget.
Trail End Camp and Outfitters, operated by Vance and Maureen Hrechkosy, is a drive-to fishing gem right on the water, just outside of Pointe du Bois, Manitoba. With a convenient location, beautiful cabins of all sizes, rental boats, guides, and an exclusive charter boat service, Trail End is the complete package in more ways than one.
Fishing Boats for Rent
Trail End Camp thrives in variety, regardless of what kind of fishing vacation you desire. We started our trip with a typical rental boat that turned out to be not so typical; a 17' Misty River with a 60hp outboard, live-well, watertight storage, and electronic depth-finder. Once we got our boat at our dock right below our cabin, we were free to use the boat when and where we wanted. My buddy Josh and I spent a day exploring the Winnipeg River, catching plenty of walleye, bass, and northern pike all over. The ability to just show up, hop in a rental boat and have the whole river to just explore and fish on your own is an incredible option for any angler.
Back-Lake Smallmouth Bass Fishing
On our first full day at Trail End, Josh and I decided we wanted to venture off the Winnipeg River and hike into a small back lake where Vance has a couple boats tucked away. We were told the lake was loaded with smallmouth bass and at times, was more of a challenge to keep bass off your hook than on it. We hiked a minimal amount of fishing gear into the small lake and began fishing in the boat there. It wasn't long before we had a handful of 14-16" inch smallmouth and we knew it was going to be a very fun morning.
After fishing the shoreline for a while, we decided to try a couple islands in the middle of the lake. At this point we had well over 10 bass that were all in the mid-teens and we were just waiting for a bigger fish to come along. We were both fishing jerk baits using a traditional twitch, twitch, pause technique and on one of my first casts at the island I set the hook on a fish and knew it had more weight than the others. It fought harder, dove deeper, and peeled drag faster than any of the other fish and we both had a feeling this was our Master Angler bass we were looking for. After a typical aggressive fight out of the angry smallmouth, Josh scooped it into the net. Just over 18 inches, we had our first master in the boat. We snapped a quick photo and got it back in the water to swim another day.
We continued to hammer fish all morning before deciding to head back to the big lake for the rest of the day. Overall, the ability to be on the big lake in a big boat one day and the next day (or even the same day in our case) hike into a tiny little back lake and target bass all day is an incredible option for an angler looking for a new experience.
Charter Boat Service
On our final day, we decided to hire Vance to guide us on his one-of-a-kind charter boat. Custom designed for Vance and his needs on the river, these charter boats are the answer for any group fishing experience.
Vance asked us what we wanted to target and Josh and I gave him a simple goal for the day: walleye in the morning, a shore lunch, pike in the afternoon, then bass to end the day off. So, we did exactly that, he took us for a beautiful drive up river to start the morning off. The walleye on the river were incredibly aggressive and were hitting all sorts of moving baits. I was casting a 1/4oz jig head with a 3.5cm paddle tail swimbait and slowly retrieving it just off bottom and the walleye were absolutely crushing it. Within 20 minutes of fishing at the first spot we had enough fish for shore lunch and a few picture fish.
After walleye fishing, Vance cooked us up a delicious shore lunch at a beautiful sand beach and it was a perfect break in the fishing day to relax and recharge. After lunch, we went fishing for northern pike. Again, at the first spot we caught lots of fish and it wasn't long before I hooked into a heavier fish. It ended up being just shy of a master angler but you can't complain with that caliber, especially when it takes less than an hour to catch one of that size.
After pike fishing, Vance took us to some smallmouth-infested shorelines on the way back and Josh and I caught more bass than we could count in the matter of about 90 minutes. It was a rocky shoreline that had the wind blowing right into it and the smallmouth were stacked thick. A quick smallie smackdown was the perfect way to end the day on the charter boat.
Vance and his custom charters offer an experience unlike any other. Accommodating groups up to 8 people, the charter boat is in a class of its own with regard to comfort, space, fishability for kids, families, and much more.
Accommodations for Every Need
Continuing with the theme of variety, Trail End Camp offers every accommodation level and size that a customer could ever ask for. For small groups there is 2 person cabins equipped with all the necessities. For larger groups, there are larger cabins, and for the big groups, there is the "Million Dollar View" cabin that sits on the top of the hill with you guessed it, a view you can only truly appreciate in person. If you're more of a "do it yourself" type of person, Vance also has Kendal Point Lodge which is a secluded cabin up river that you can rent for yourself with no staff or other guests for a true outpost experience.
One of my favourite parts of the Trail End experience is the quality of accommodations. Josh and I maximized the full kitchen in our cabin, the BBQ on our porch, and the lakeside fire pit to cook a variety of gourmet meals. Regardless of group size or type, Trail End has a cabin that fits your needs. Whether you're a hardcore angler with your own boat and just need a beautiful cabin to sleep and cook in or you're a family looking for a new summer fishing vacation destination, Trail End on the Winnipeg River has to be on your must-go list.
Top 5 Trip Tips
If you're going to make the trip to Trail End Camp on the Winnipeg River, here are some tips I have to make your fishing vacation as easy as possible.
Bring a headlamp. Headlamps are useful for all sort of situations from unpacking the truck in the dark to cooking on the barbecue after the sun goes down.
Variety of rods, reels, and tackle. There are so many species to target in the Winnipeg River and so many ways to target each species so a good variety of gear is a great idea.
Paddle tail Swimbaits. A swimbait is centerpiece in Manitoba angling and on this trip specifically, I used big swimbaits for pike, and small swimbaits for walleye and bass. If I only had one lure in Manitoba, it would be a swimbait.
Proper fish handling tools. If you're fishing for bass, pike, and walleye all in the same trip, or even same day, that does not mean you can use the same tools. Make sure you're prepared with a variety of sizes of pliers so you have the right tool for the right job to ensure the health of the fish is priority.
Take advantage of the camp facilities. Like I said, there is full kitchens, BBQ's at each cabin, and a beautiful fire pit to use. Try something new use the facilities to cook up something you've never tried before.
For more information about Trail End Camp and Outfitters, visit the Trail End Camp and Outfitters website.
For more information about drive-to fishing in Manitoba, visit our Drive-To Fishing page.
*Travel Manitoba staff was hosted by Trail End Camp and Outfitters, who did not review or approve this story.
*Protect Manitoba's water and resources. Stop aquatic invasive species. For more information on how to do your part visit the Sustainable Development AIS page.
HuntFishMB Contributor: Marcel Laferriere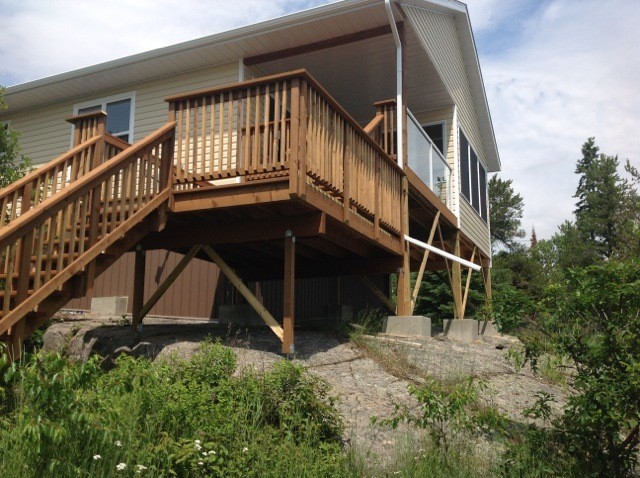 Learn More
Trail End Camp & OutfittersBox 62
POINTE DU BOIS, MB R0E 1N0