Do It Yourself Fly-In Fishing for Giants - Kamuchawie Lake Outpost
Big fish, big experiences and big value! When it comes to booking a Canada fly-in fishing trip, every angler is ultimately looking for the best of all worlds.
This couldn't be more true for Laurie River Lodge's fly-in outpost at Kamuchawie Lake.
Only a short flight from Lynn Lake, Manitoba, this exceptional outpost camp sits on the shore of a highly productive fishery. The cabin and camp are as modern as it gets and powered by an incredibly quiet, off-site generator. With a focus on everyday comforts, three well appointed bedrooms, a full kitchen, diverse meal plan, freezer, indoor plumbing and bathroom facilities, reliable boats and motors and a satellite phone for communication are there to meet your everyday needs. Although you're in perfect solitude on a remote lake in Northern Manitoba, convenience, comfort, cuisine, and cleanliness are far from sacrificed.
How about the fishing? The fishing on Kamuchawie Lake is simply incredible. The primary attraction is lake trout and the calibre of fish that can be caught is literally mind boggling. Anglers can also chase giant northern pike as well as some pretty impressive golden walleye. But we'll let the video inspire you on the multiple mega bites that Kamuchawie so generously offers!
If you're looking for an outstanding fly-in fishing experience on a secluded lake with giant lake trout, Kamuchawie Lake Outpost is definitely the place for you.
For more information about Kamuchawie Lake Outpost, visit the Laurie River Lodge website.
For more information on fishing for lake trout in Manitoba, visit our Lake Trout page.
*Travel Manitoba staff was hosted by Laurie River Lodge, who did not review or approve this story.
*Protect Manitoba's water and resources. Stop aquatic invasive species. For more information on how to do your part visit the Sustainable Development AIS page.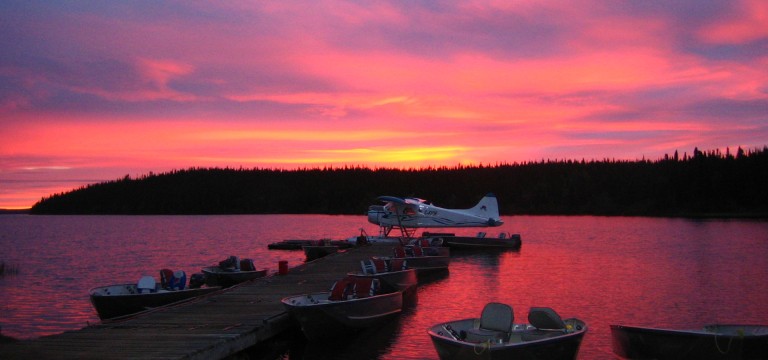 Learn More
Laurie River LodgeBox 550
Lynn Lake, MB R0B 0W0