Raising the Bar for a Canadian Fly-In Fishing Experience - Kamuchawie Lake Outpost
I was ecstatic in the months, weeks, and finally days prior to flying out to Kamuchawie Lake for what I knew would be a once in a lifetime fly-in fishing outpost experience in Northern Manitoba.
Laurie River Lodge operates an incredibly smooth, easy, and affordable DIY package to stay and fish on Kamuchawie Lake in their beautiful outpost camp. The benefits of an outpost are limitless and for many anglers, this could be the most exclusive angling option a fly-in fishing lodge offers.
The Fly-In Fishing Outpost Experience
Travelling to a fly-in fishing outpost camp is a well-utilized resource in Manitoba. Outpost camps can offer an unbelievable angling experience that balances all the aspects of what I believe makes a perfect fishing trip; Phenomenal fishing, excellent accommodations, a flexible schedule and an experience that enables irreplaceable camaraderie with my angling friends and family. Kamuchawie Lake Outpost provided me with all that and a lot more.
Our 'stand out' fly in fishing trip began with our arrival. We flew from Winnipeg to Lynn Lake before hopping on a classic float plane with Laurie River Lodge's incredible pilot, who took us on a short and breathtaking flight from Lynn Lake to Kamuchawie Lake. The landscapes are surreal and the views from above onlooking Northern Manitoba are one of a kind. We landed on Kamuchawie Lake to see a remote, but ultra modern cabin awaiting us. Walking in we were greeted by a full kitchen fully stocked with food for the week, centrally located wood burning stove, and incredibly comfortable bedrooms with some of the best linens I've ever slept in. Within seconds of being in the cabin, I thought to myself, 'It's going to be very easy to call his home for the week'. And I hadn't even seen the fishing yet.
Epic Lake Trout Fishing
Heading up to Kamuchawie with my three buddies, we knew there was big lake trout in the lake. We had heard the local stories, seen the Master Angler Program reports, and knew what Northern Manitoba can produce. However, Kamuchawie took all of our expectations and blew them out of the water. Our first day lake trout fishing was a day that none of us will ever forget. We all finished the day saying things like "That's as good as it gets boys" and "You can't ask for anything better". Here's how that day began…
We started at a spot that was a neck-down between two islands that were just off the main lake. The spot is known for it's iconic "Big Trout Here" sign that is drawn into the moss on a large rock-face on shore. We were jigging in the deeper holes in the neck-down and it wasn't long before we hooked up with a few nice mid-size lake trout. Great for filling in the gaps or cooking up on the BBQ, smaller trout are fun, but it wasn't what we were after. The other boat we were there with was my friend Jay Siemens and his dad Laverne. They seemed to be hooting and hollering a lot and it wasn't until we drifted near them as they were hooked up that we knew why. In a span of a couple hours, Laverne was on fire with a giant white tube jig and had already boated several master angler lake trout, including two over 40 inches.
In the same neck-down that Laverne was catching his giants, not long after, my buddy Ryan hooked into a heavy fish. Setting the hook into what looked like a snag, Ryan and I knew immediately that whatever just crushed his lure down the depths was big, really big. With huge head shakes, heavy runs, and a fight that only a giant lake trout could produce, this one fish was all it took to appreciate Kamuchawie Lake for the masterpiece fly-in fishing destination that it is. We boated the giant trout that had shoulders like you wouldn't believe and a measurement of 38 inches long. This giant lake trout with a girth that made it look like something out of a comic book instantly made our trip.
After everything was said and done, our group boated nearly 10 master angler lake trout with the biggest hitting a mind-blowing 42 inches in length and a hump back that would make you look twice. Laverne stole the show with at least half the trophies and the 42 inch behemoth. Overall, like I said earlier, "It doesn't get any better than that".
Trophy Northern Pike
To compliment Kamuchawie's mega lake trout population, you can also venture into various shallow water bays to target giant northern pike. The warmest day we were there, we decided to spend the afternoon when the sun was high to look for some big pike. We caught in every bay we fished, and caught multiple pike in the high 30 inch range. I was casting a paddle-tail swimbait which is a multi-species staple if you ask me, and casted toward a creek at the back of a weedy bay. Half way through my retrieve, I saw the back of what I knew was a big pike. As it neared the boat, I saw it clearer and clearer as it focused in on my swimbait before swerving right at the last minute as I got to the boat. I knew it was a 40'' plus fish. It was a very convincing follow and I had a strong feeling that it would eat.
We circled the boat around the creek to get in position and we all casted at it. It took a couple casts with the fly rod to entice it, but all of a sudden in super shallow water, boom! Fish on and that 10 weight fly rod was bent in half. We knew it was her just on the weight. This fish put up one of the craziest fights I've ever seen out of a pike. It was mean and mad and wasn't going to get in that net without a fight. Finally, we boated it and it measured out at an impressive 43 inches with shoulders like a linebacker. Northern Pike of that quality on the fly rod is an angling experience that any hardcore angler simply needs to do.
It's An Easy Choice
Even after a few days, I was completely sold on the fly-in fishing outpost experience. The concept of flying into a remote lake to arrive at a cabin that is stocked with delicious food as part of the comprehensive food plan and to have what feels like the entire lake to yourself is as close to a perfect fishing trip as I can imagine. The quality of fishing that you get at a lake such as Kamuchawie is truly unreal and the modern cabin is simply unbeatable. You have a hot shower, full bathroom, kitchen, and comfortable bedrooms all in the middle of perfect solitude.
Although the fishing was world class, the highlight of the trip for me was the opportunity to enjoy a level of camaraderie that you might not get anywhere but an outpost camp. For me it was just a fishing trip with my buddies but for Jay and Laverne it was also a family retreat. Being able to fish on your own schedule, then get back and BBQ some steaks on the deck as the sun goes down, before hanging out in a cabin for the rest of the night with your friends is something you just can't put a price on. You get to spend more quality time with your friends and family, and for me, that is the pinnacle of a perfect fishing trip.
Top 5 Trip Tips
Outpost camps require slightly different packing than a guided trip at a main lodge and there may be some things you want to consider before booking your trip to Kamuchawie Lake. Here's a few tips from my experience:
Correct Angling Gear. If you're fishing for big fish, you simply need the right equipment. A medium heavy rod at a minimum and 40 pound braid at a minimum. Excessively long fish fights are not heroic and can be very hard on the fish. Use the right equipment to land them in a safe and efficient matter so you're releasing a fish with some remaining energy.
Electronics. The boats at Kamuchawie Lake are equipped with basic fish finders but both of us brought Helix's with portable mounts so we could have the benefits of features like maps and side imaging to help us learn the lake faster and target specific fish.
Tube Jigs. Tube jigs have been a staple lake trout lure for a very long time and simply put, every single master angler lake trout that we boated on our trip was caught on a tube jig.
GPS Communicator. Both Jay and I have devices called a Garmin In-Reach that enables us to send texts and emails through satellite, which is a fantastic safety device to have when you're out in the wilderness or out of cell phone coverage. The cabin has a satellite phone for emergency, but for when you're on the water, this unit is a great communication tool.
Just do it. Don't let a fly-in fishing outpost experience be something you just dream about or think would be fun someday. Life's too short, just do it.
For more information about Kamuchawie Lake Outpost, visit the Laurie River Lodge website.
For more information on fishing for lake trout in Manitoba, visit our Lake Trout page.
*Travel Manitoba staff was hosted by Laurie River Lodge, who did not review or approve this story.
HuntFishMB Contributor: Marcel Laferriere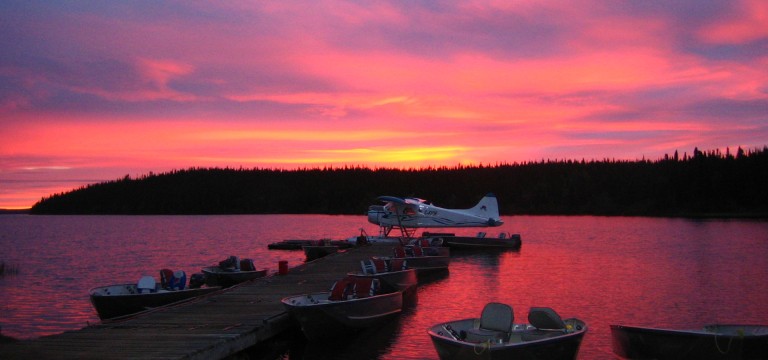 Learn More
Laurie River LodgeBox 550
Lynn Lake, MB R0B 0W0