Golden Walleye Fishing Jackpot at Viking Lodge - Manitoba Hot Bite
A dream fishing trip usually has elements of catching big numbers in addition to hooking into several really big fish.
What we found out after walleye fishing the Cranberry Chain of Lakes for the first time, is that the stars don't have to align to catch huge numbers of huge fish here. We hit the trophy golden walleye fishing jackpot - three days in a row!
Cranberry Chain of Lakes
Viking Lodge in Manitoba's Northern Region is located on one of the top drive-to walleye fisheries in the province. Even with that distinction, the Cranberry Chain of Lakes is an often-overlooked area as it happens to lie in between several other world-class bodies of water. The lodge is in the town of Cranberry Portage, literally metres off of the main highway (Hwy10) connecting The Pas and Flin Flon.
Consisting of First, Second, and Third Cranberry, along with massive Simonhouse, this extensive series of lakes is home to giant walleyes, huge northern pike, and lunker lake trout. Several secluded small back lakes also dot the area and are loaded with fish as well. Viking Lodge has boat caches on several of these where on a day trip, anglers can expect to boat over 100 walleyes and a handful of Master Angler pike.
Incredible average size of walleyes
Generally, fishing for walleye in the middle of August is often frustrating and can require lots of effort with relatively little reward. On many of the premiere lakes in the north however, there's no need to limit yourself to the textbook dawn and dusk prime windows for a chance at some bites. Such is on the Cranberries; you can count on finding schools of fish actively feeding throughout the day.
Knowing this, we were still surprised at the incredible average size and overall numbers of big walleye that we encountered on a recent trip to Viking Lodge. HuntFishMB Contributor Chris Chorney and I had high expectations coming in, but we never anticipated such sustained fast and furious action for four-pound plus walleyes. While we did hook into a variety of year classes, fish in the 'teens' were few and far between with the average catch being an eye-opening 22 to 26-inches!
Basic summer walleye program worked
Guiding us on this trip were part-lodge owners Paul and Matthew Wiens. The brothers are avid anglers and they shared that they hit the water as much as time running a lodge operation allows. We browsed the 'wall of fame' board in the main lodge and marvelled that it was full of photos of trophy northern pike, lake trout, and walleye just from the 2019 open water season up until then.
The program we employed for the walleyes was simple. Targeting mid-lake humps and sharp-tapering points, we scanned the sonar unit over these areas until numbers of marks would read on the screen. Dropping our jig and plastic or jig and frozen minnow combos into these arches regularly resulted in a tell-tale 'ta-thunk' bite almost immediately. Whenever we stopped marking fish, minor adjustments with the spot-lock was usually enough to find them again.
Master Angler walleyes
We boated an incredible three Master Angler walleyes over the three-day trip with several more just shy of the 71cm (27.75-inch) benchmark. The longest was a 29.25-inch tank that didn't feel like a walleye when it exhibited a few line-peeling runs away from the boat. Although we didn't hook into any that reached the magical 30-inch mark, we were told fish well past that length are caught on this system quite regularly. Just in case we doubted this claim, Matthew sent me photos of two very such fish that he caught later the very day that we hit the road back to Winnipeg (30" and 31").
Northerns and Lakers
There were a few incidental nothern pike that bit our jigs but not too many of any real size. Taking a break from the walleye, we explored some likely-looking pike corners and casted spoons to see what would bite. We proceeded to hit double-header after double-header of feisty mid-thirties northerns that were congregated on the edge of a deeper weed bed.
Deciding to keep our lucky streak going, we changed it up once more and went after lake trout for an hour. Suspending a classic white tube jig halfway down an 80-foot drop-off resulted in a vicious slam on my line at one point but came up empty on the hookset. We did find success though when Chris boated a 30-inch lake trout on a Carolina setup that Paul rigged up.
Unspoiled Lakes
Paul shared that this was their fifth season of owning the lodge and he was still discovering new hotspots on the lakes to fish. One of our most productive points for big fish was a spot that he had just fished for the first time days before we came up. The area is unspoiled as there are very little to no dwellings on almost all of the chain aside from the town's shoreline on First Cranberry.
Viking Lodge has sixteen cabins on-site as well as twenty-one full-service RV sites and a campground. They also run one of the only restaurants in town serving a delicious menu of pizza, burgers, and chicken. A well-maintained free public boat launch is adjacent to the main lodge and guests have access to a protected dock system that runs along the property so your boat can stay in the water if you want during your stay.
If you are looking for a drive-to destination that offers access to pristine secluded water, comfortable accommodations, and sure-fire trophy fishing, give Viking Lodge a call.
To learn more about the incredible open water opportunities at Viking Lodge check out another story from this world-class fishery "Northern Manitoba Drive-to Fishing That's Hard to Beat - Viking Lodge"
HuntFishMB - Eric Labaupa
For more information about booking a trip visit Viking Lodge.
For more information about fishing for walleyes in Manitoba visit our Walleye page.
*Travel Manitoba staff was hosted by Viking Lodge, who did not review or approve this story.
*Protect Manitoba's water and resources. Stop aquatic invasive species. For more information on how to do your part visit the Sustainable Development AIS page.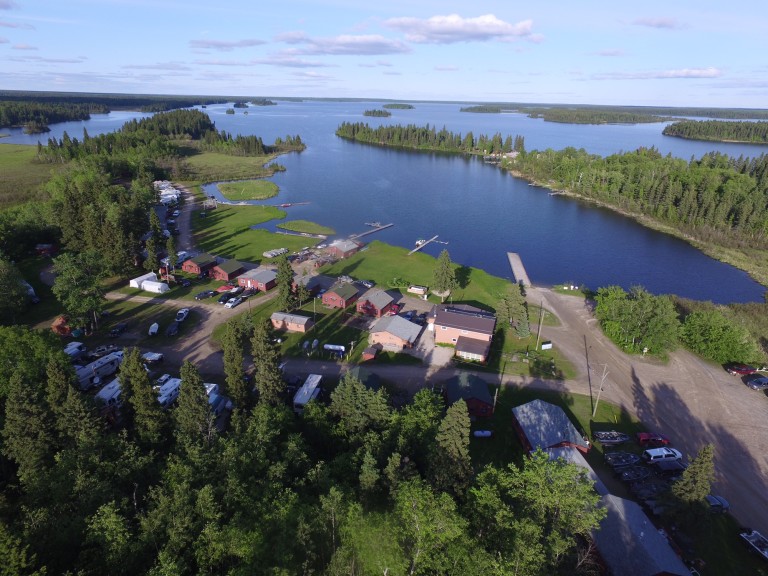 Learn More
Viking Lodge351 Public Road SE
CRANBERRY PORTAGE, MB R0B 0H0