Incredible Drive-to Walleye Fishing at Paint Lake Lodge - Manitoba Hot Bite
The Northern Region of Manitoba has numerous drive-to walleye fishing opportunities to extraordinary lakes teeming with fish.
A perfect example is Paint Lake located in Paint Lake Provincial Park south of the City of Thompson. One of the premiere lakes north of 53, this sprawling body of water is a popular destination for walleye anglers.
Paint Lake
A classic Canadian Shield lake, Paint is characterized by countless islands, bays, reefs, and narrows which all translate into incredible walleye fishing. Stretching five miles wide and surpassing twenty-five miles long, there is no shortage of textbook locations to target these golden-backed predators of the north. The pristine boreal forest that lines the majority of shoreline on this picturesque lake provides a remote wilderness experience backdrop to go along with truly exceptional drive-to walleye fishing.
We went on a recent trip to capitalize on the spectacular walleye hot bite that this lake is well-known for. Staying with me in one of the awesome cabins operated by Paint Lake Lodge owners by Barry and Kathy Ruiter, were Keevin Erickson and Will Brown. We had high hopes of catching a pile of walleyes well into the triple digits during this trip and leave it to say we were not disappointed.
Paint Lake Lodge
Located on the shore of the largest dock slip marina in Manitoba, Paint Lake Lodge offers the perfect home-base for an incredible drive-to fishing trip. They have nine fully equipped cabins that can comfortably house a group of four anglers or a large family with kids. The main lodge has a full-service restaurant and lounge that is a well-noted incredible food destination in and of itself as well as a tackle and bait store. Kids and the young-at-heart will enjoy the ice cream and slush counter located in the store that also offers other food and supplies that might need replenishing on a trip.
Visitors can tow their own boat of any size or style from home and reach the launch without ever leaving paved road. An on-the-water fuel station and a huge well-maintained provincial park dock system make the boating portion of your trip plans even easier than the fishing. A great option is to rent one of their awesome boats instead featuring a newer fleet of 16 foot/25hp floor and seat-back tiller fishing boats along with a 20 foot/115hp pontoon boat.
Catching a ton of walleyes
We fished numerous areas on Paint from literally just in front of the lodge to the farthest remote reaches of the lake and surprisingly, or not surprisingly to those who know how good the lake can be, had success at every single stop. The average size of walleye we hooked into were a nice range of feisty 15-19 inchers. Chunky 20 inch plus fish would smack our lures here and there. Shallower scattered rock bottom areas adjacent to sand shores were by far the most productive zones for numbers of fish. The larger walleyes seemed to roam as one-offs that we picked off on rocky island and mainland points.
What to use
A variety of presentations worked in the mid-60F cold water of this mid-June trip. We casted out hard and soft-bodied lures, jigs and plastic, and jigs and bait with all of them getting attention from the lake's healthy population of walleyes. Multiple decent-sized northern pike, yellow perch, and even white suckers also fell for our wide array of offerings. To reach the shallow-water relating schools of fish we would simply make a short cast out and slowly hop and twitch the jig back to the boat. Live leeches were the ticket in some areas while a white or orange twister tail was the go-to lure in others.
If you are looking for an amazing fun-filled getaway with the family or an action-packed trip with the crew, be sure to check out Paint Lake Lodge. The hot bite on the cool clear waters of the Northern Region never really fades out with spectacular drive-to walleye fishing accessible all throughout the spring, summer, and well into the fall.
For another great story on this incredible fishery check out the following blog! Head North for Fantastic Fall Walleye Fishing - Paint Lake Lodge
For more information visit paintlake.ca
HuntFishMB - Eric Labaupa
For more information about fishing for walleye in Manitoba, visit our Walleye page.
*Protect Manitoba's water and resources. Stop aquatic invasive species. For more information on how to do your part visit the Sustainable Development AIS page.
*Travel Manitoba staff was hosted by Paint Lake Lodge, who did not review or approve this story.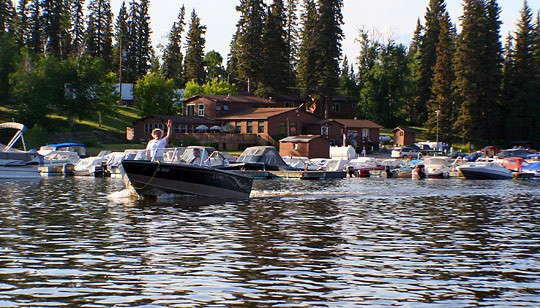 Box 327, Hwy 375 10 minutes off HWY 6 20 minutes south of Thompson Mb Thompson, MB R8N 1N1 (204) 677-9303 Website
Learn More
Paint Lake LodgeBox 327, Hwy 375 10 minutes off HWY 6 20 minutes south of Thompson Mb
Thompson, MB R8N 1N1